Research
This section of the Landscape Architecture web site showcases abstracts, publications, and papers that represent the research and scholarly interests of the department's faculty.
Automotive retrofits in historic city centres and their potential effects on their walkability: a comparison of San Luis Obispo, CA, USA and Bath, England, UK
Beverly Bass was recently the lead author on an article summarizing her research project comparing walkability in two historic city centers, San Luis Obispo, CA – USA and Bath, England, UK. This article was recently published in The Journal of Urban Design. The abstract and link to the article can be found below: 
ABSTRACT 
Historic districts often contain retrofits to accommodate automotive infrastructure, primarily parking, that can negatively impact walkability. This research examines how various approaches to historic preservation and parking retrofits in two historic central districts (Bath and San Luis Obispo) impact walkability. Case study analysis, planning and historic conservation literature reviews, and walkability indicator observations were conducted for both sites. Results indicate that Bath limits surface parking in its historic core whereas San Luis Obispo has a greater degree of parking retrofits that reduces walkability. Walkability factors were lower for streets containing surface parking that disrupts the relationship between buildings and walkways.
Read the full article by clicking HERE.
The Council of Educators in Landscape Architecture (CELA) 2017
The Council of Educators in Landscape Architecture held their 2017 annual conference in Beijing, China, and Cal Poly was well represented. The conference was hosted by Tsinghua University, Beijing Forestry University and Peking University. Professors Edstrom O'Hara, Ragsdale, Torres-Bustamante, and Watts all presented their current research endeavors in multiple media formats ranging from film to poster to power point. The abstracts presented were:
Professor Edstrom O'Hara: "Landscape History in the Digital World: A Case Study of 1920s Los Angeles"
Professor Ragsdale: "Sectional Thinking: Considering Experience, Sequence and Spatial Development in the Design Process"
Professor Torres Bustamante: "Digital Video and the Impact of Landscape Architecture on Public Well-being"
Professor Watts/ Reeves: "Footsteps in Time: The Gardens of Versailles"
Professor Watts: "Playground as a Diagnostic Indicator of a Child's Well-being"
The conference afforded attendees an opportunity to network globally with peers, and experience the sites and culture of China. Traditional Chinese breakfast, the Forbidden City, and a trip to the Great Wall highlighted the conference experience.
Read more about this year's faculty research by clicking here!
TITLE: Revisiting Eden:  The Olmsted Brothers' ecological plans for Los Angeles, 1914-1931
Christy O'Hara, Associate Professor
Abstract:
Ecological planning relies on a keen awareness of relationships between biophysical and social processes, then uses this knowledge for decision making in accommodating for human needs.  The value of this planning process allows for design intervention while also ensuring a sustained use of the landscape, with these insights blending skill and artistry into place-making.  In the 1960s, environmental concerns galvanized a generation of landscape architects who first codified ecological planning as a rationale for decisions with environmental stewardship.  While this is the accepted canon, in the early 20th century during a period of experimentation and exploration, the Olmsted Brothers landscape architecture firm was using ecological principles as foundations for landscape architecture practice.  This dissertation challenges current discourse and accepted history, presenting evidence that the Olmsted Brothers' work in the 1920s predated many modern ecological theories and applications, and is an important addition to the historiography of ecological planning.
This dissertation largely focuses on Frederick Law Olmsted, Jr. as the central historical figure, offering a more in-depth understanding of the evolution of the firm, and fills the gap of the Olmsted legacy.  As the children of Frederick Law Olmsted, Sr., Frederick Law Olmsted, Jr. (1870 – 1957) along with his brother John Charles Olmsted (1852 – 1920) co-founded the Olmsted Brothers and created one of the most prolific landscape architecture practices, developing projects in all aspects of landscape design.  The Olmsted Brothers' work in California accounts for over 200 projects, and ranks among the highest number of their 5000 designs developed in the United States.  In the early 20th century, the city of Los Angeles offered significant ecological, cultural, and technological challenges for the firm, with the city's unbridled urbanization and proliferate use of water and automobility.  Rich in solutions, the firm's built and proposed designs over the course of 20 years revealed the discipline of landscape architecture in its richest and most scalar form. From small scale gardens, residential communities, park and parkway systems, to open space and watershed planning, the Olmsted Brothers created public spaces that worked in relationship to the ecology of the region during a critical juncture in the history of regional planning in Southern California.
A range of methods were utilized in this dissertation.  Primary data provided both qualitative and quantitative material for study and was extracted from letters, reports and writing, drawings, photos, plans and maps.  Over 20,000 primary documents, written by the firm's principals, provided the basis for analysis, and in a new way, this dissertation interprets not only the written documents, but related construction documents developed from 1914 - 1931.  As part of its data collection, an original contribution of this study is a comprehensive corpus of Olmsted Brothers source material from their work in Los Angeles.  Methodologies sought to modify these documents into a spatial understanding of their work through digital analysis and re-creation of designs. 
The Olmsted Brothers' design solutions provide insights into today's ongoing concerns about water management, sustainable urban planning, and multifunctional landscapes.  Their design proposals solved multiple problems with the design, accounting for not only vast geography, but complex cultural and natural systems within it.  The value of their ideas reflects landscape architecture solutions as hybrid, dynamic, and strategic, offering 21st century practitioners paradigms in an ever-changing ecology.
Parking Retrofits within Historic City Centers and the Potential Effects on Their Walkability
Beverly Bass presented her research "Parking Retrofits within Historic City Centers and the Potential Effects on Their Walkability: A Comparison of San Luis Obispo and Davis, CA" at the June 2017 International Conference on Transport and Health in Barcelona, Spain. This research looks into how automobile parking affects the walkability of two historical and walkable small towns in California. It also compares the approaches to parking in each city and identifies the parking schemes that best preserve the walkable qualities found in each city. This research helps guide practitioners and policy makers in determining the best approaches to parking in historic downtowns.
Abstract: ABC of Landscape Architecture
Cesar Torres-Bustamante, Ph.D., Associate Professor
Landscape Architecture Department
California Polytechnic State University
San Luis Obispo, CA
Topic(s): Film

Keywords: video, digital video, communication, landscape architecture

Abstract: Fifteen years ago, Charles Waldheim discussed and speculated over the use of photography as a representational mechanism for the landscape, framing it as an analytical tool that not only reveals a given condition but also articulates possible futures [1] . Since then, opportunities for framing landscape analysis, schematization and planning have emerged not only from still images, but also from moving images. Video, audio and moving imagery presentations have revealed innovative possibilities in landscape design and representation in the last ten years. Christophe Girot's has highlighted the potential of video in investigating landscape temporality by recording its ever-changing (and otherwise impossible to grasp) dynamic and fluid characters. Our perception towards video has also shifted in the last decade, from a task that required specialized technology for recording and editing, to a uncomplicated activity that can be done with any smartphone. The average time that US adults spent watching video on digital devices has increased more than 250% in the last five years: from 21 minutes (0:21) per day in 2011 to almost one hour and a quarter (1:16) last year. [2]

Girot asks for a better integration and understanding of contemporary visual thinking in project development and communication [3] . Digital media offers an accessible and affordable platform for communication, that can shift from message communication or analysis into persuasion: video outcomes focus not only on telling a story, but also on finding ways to grab the attention of the viewers and hold on them long enough to deliver a message.

This video session aims to showcase student videos produced as submissions for the 2015 Wayne Grade Memorial Student Competition, a contest that challenged students to communicate the positive impacts of landscape architecture on public well-being. Students produced short videos as means to communicate what landscape architecture is, and how it impacts our lives. These experimentations with moving images included animations with simple video-editing software ("ABC of Landscape Architecture"), compositing 3D objects on video ("Landscape Architecture and Stormwater Management"), using animation as a video-game ("Stick Figure Games") and stop-motion ("Landscape Architecture: What difference does it make?") to explore the possibilities of short animations as means of "effectively [communicating] the vital role that landscape architects play in protecting and enhancing 'public welfare'" [4]. None of the students were expert video editors, yet their abilities and skills found in digital video a platform that gave them opportunities to communicate, experiment and shape a message about the impact of landscape architecture on public well-being.experimentations with moving images included animations with simple video-editing software ("ABC of Landscape Architecture"), compositing 3D objects on video ("Landscape Architecture and Stormwater Management"), using animation as a video-game ("Stick Figure Games") and stop-motion ("Landscape Architecture: What difference does it make?") to explore the possibilities of short animations as means of "effectively [communicating] the vital role that landscape architects play in protecting and enhancing 'public welfare'" [4]. None of the students were expert video editors, yet their abilities and skills found in digital video a platform that gave them opportunities to communicate, experiment and shape a message about the impact of landscape architecture on public well-being.

Link to video 'ABC of Landscape Architecture'
https://www.youtube.com/watch?v=coJYJuA7wfg

References: [1] Charles Waldheim, "Aerial Representation and the Recovery of Landscape," Recovering Landscape, ed. James Corner (New York: Princeton Architectural Press, 1999), 120-139. [invited]

[2] "US Adults spend 5.5 hours with video content each day" by eMarketer. http://www.emarketer.com/Article/US-Adults-Spend-55-Hours-with-Video-Content-Each-Day/1012362. Last accessed 31 October 2016.

[3] Christophe Girot, "Vision in Motion: Representing Landscape in Time", in The Landscape Urbanism Reader (Charles Waldheim, ed), 2006.

[4] Communicate the Impact of Landscape Architecture on Public Well-Being, Landscape Architecture Foundation News Blog, https://lafoundation.org/news-events/blog/2015/02/18/wayne-grace-competition/ Accessed 10/7/2016.
 
Abstract: Council of Educators in Landscape Architecture
Ellen Burke, Assistant Professor 
Landscape Architecture Department
California Polytechnic State University
San Luis Obispo, CA
To be presented June 24, 2016, at the Urban Food Systems Symposium, Kansas State University, Olathe, KS
Iterative Mappings: Spatial Analysis and Community Food Resilience
Community-level food resilience can be understood as an effort to anticipate change and strategically build adaptive responses, with the goal of reducing vulnerability to food shortages and interruptions in the supply chain. Long-term resiliency responses may include shortening supply lines, creating redundancy in critical areas, and/or increasing local production and distribution capacity. These responses may be catalyzed through development of community resources, strategic planning, and linkages both within communities and to neighboring communities. This paper uses the case of a community food resilience initiative in San Luis Obispo County (SLO), CA, to explore the role of spatial analysis in defining and supporting resiliency responses.
Food resilience planning is often carried out by multiple activists and community-based organizations, each focused on narrowly-defined initiatives. The formation of a shared framework can be hampered by lack of an overall understanding of how the projects relate, of what assets and patterns already exist in the community, and of articulated common priorities. Yet a common framework is critical to managing resources and optimizing outcomes from community efforts.
Mapping and spatial analysis are well-documented instruments for strategic action, from warfare to logistics management. In recent times, the use of spatial analysis as an iterative and generative process has been explored in the fields of landscape architecture and urbanism. This approach to spatial analysis focuses on discovery of relationships between parts; on reconciling ecological, economic and socio-cultural patterns; and on identifying flows and systems within a geographic area. Combining both strategic and iterative approaches to mapping can yield a holistic understanding of food systems, and holds potential for enabling development of framework approaches to food resilience planning.
Over the past year food activists and planners in SLO have undertaken a hybrid spatial analysis that moves beyond inventory to address flows, distribution patterns, and physical and social food systems infrastructure, in order to create a shared framework for resilience planning. In this presentation I will describe and evaluate ongoing efforts in SLO to use spatial analysis as an instrument for creating shared frameworks and goals; and offer recommendations for the use of spatial analysis to inform the development of community food resilience strategies.  
Measuring the Social Performance of Food Production Landscapes: Towards Establishing a Framework & Metrics
Advocates of integrating food production landscapes within urban, suburban, campus and other design typologies cite multiple and integrated benefits of food landscapes. These include enhanced food security and quality; land access for small farmers; psychological and social benefits such as community building; educational opportunities for environmental, health and nutrition issues; and green infrastructure contributions, among others (Philips 2013; Ackerman 2012; Hodgson et al 2011; Hou et al 2009; SAGE 2005).
If performance can be understood as "the fulfilment of a claim, promise, request" (Merriam Webster 2015), then landscape performance measures for food production would ideally encompass the overall range of cited goals and benefits. Yet in current practice the performance of food production landscapes tends to be measured in limited ways, most often by weight of harvest and/or consumer value of harvest. One reason that designers privilege these measures is the availability of online calculators that estimate yields by weight and consumer price equivalent, and a concurrent lack of easily accessed metrics for other benefits. While measuring performance by weight and consumer value may be appropriate in some cases, there are several drawbacks with this approach, including undervaluing other outcomes.
This paper examines potential metrics for evaluating the social performance of food production landscapes and generates recommendations for assessment methods. Criteria from the Landscape Architecture Foundation (LAF) case studies on the social performance of landscape guide the scope, organization and critique of relevant literature across diverse fields, including nutrition, epidemiology, geography, planning, and landscape architecture. This paper builds a framework which improves the link between performance assessments and desired social outcomes, positions food production landscapes as complex and regenerative eco-social systems, and suggests methods for assessing performance across the range of benefits produced. 
(CELA) 2016: Presented at CELA 2016, Salt Lake City, UT
Author: Beverly Bass
Landscape Architecture Department
California Polytechnic State University
San Luis Obispo, CA
Title:  The Role of the Creative Class in Small Town Regeneration: A Case Study of Kinston, NC
Keywords: small town regeneration, rural small towns
Abstract:
Small towns are subject to decline as industries migrate to other regions or countries (Fuguitt, G. et. al., 1989). One such case is Kinston, NC. Kinston was established as an English settlement in 1762 (Johnson & Hollomon, 1954) and thrived through textiles and tobacco. Decline began in the 1960's with the export of these industries. Kinston has since struggled to regain an economic foothold. Poverty rates for Lenoir County rose above 25% by 2011 (US Census, 2012). Recent events appear to be prompting economic development. An embryonic arts and culinary movement are finding purchase in the city. Several restaurants have started to transition Kinston into a food tourism destination, one of which is the subject of a PBS series, A Chef's Life® (Severson, 2015; Howard, 2015). An artist community is being established with several new galleries. The city planning department recently created an artist zone overlay in part of downtown with the intention of offering low cost live/work space to an entrepreneurial creative class (Satira, 2014).
The purpose of this study is to determine if the rise of a creative class is serving as the catalyst for recent change and if not, what factor or factors have contributed to these changes? Creative industries have been shown to increase tourism and regeneration (Wood and Tayler, 2004; Bell, 2005). This research fills a gap in the literature in that there is a paucity of research into small town regeneration in the United States. Much of the existing research occurs internationally. Still, international and domestic research concludes that the greatest success in small town regeneration results from public/private partnerships that leverage existing assets at both local and regional scales. (Brown, 2013; Cebulla, et. al., 2000; Flora, et. al, 1992; Jeannot and Goodchild, 2011; Lewis, 1998; MacDonald and Jolliffe, 2003; Nel and Stevenson, 2014; Osborne, et. al., 2004). This study will add to this literature by detailing the mechanisms that have led to regeneration in Kinston and will add to landscape architects understanding of the issues at play when approaching small town regenerative efforts.
A case study of this regenerative process will be presented that will include a literature review, overview of the issues, and interviews with city officials, non-profits, business owners and other key players. Findings about cooperative partnerships between public and private interests and the role that artists and creatives are having in this effort will be presented.

Bibliography:
Bell, D. (2005). What's Eating Manchester? Gastro-Culture and Urban Regeneration. Architectural Design, 75 (3), 78-85.
Brown, C. (2013). Shrinkage happens...in small towns too! Responding to de-population and loss of place in Susquehanna River Towns. Urban Design International, 18 (1), 61-77
Cebulla, A., Berry, J., and McGreal, S. (2000). Evaluation of community-based regeneration in Northern Ireland. The Town Planning Review, 71 (2), 169-189.
Flora, J., Green, G., Gale, E., Schmidt, F., and Flora, C. (1992). Self-Development: A Viable Rural Development Option? Policy Studies Journal, 20 (2), 276-288.
Fuguitt, G., Brown, D. and Beale, G. (1989). Rural and Small Town America. New York, NY: Russell Sage Foundation.
Howard, V. (producer and writer). Eggs A Dozen Ways, Episode 13, Season 2. A Chef's Life. Public Broadcasting Corporation. Retrieved February 22 2015 from http://video.pbs.org/video/2365308450/
Jeannot, G. and Goodchild, B. (2011). Fuzzy Jobs in Local Partnerships: Case Studies of Urban and Rural Regeneration in France and England. Public Administration, 89 (3), 1110-1127.
Johnson, T. and Holloman, C. (1954). The Story of Kinston and Lenoir County. Raleigh, NC: Edwards & Groughton Company.
Lewis, J. (1998). A Rural Tourism Development Model. Tourism Analysis, 2, 91-105.
MacDonald, R and Jolliffe, L. (2003). Cultural Rural Tourism. Annals of Tourism Research, 30 (2), 307-322.
Nel, E. and Stevenson, T. (2014). The catalysts of small town economic development in a free market economy: A case study of New Zealand. Local Economy, 29 (4-5), 
Title:
A strategy for locating constructed wetlands as part of a watershed management plan
By Miran Jung Day and David Kovacic
Abstract:
This paper presents the Lake Bloomington Watershed Project as a case study for the feasibility of locating constructed wetlands to improve water quality of Lake Bloomington, Illinois using Geographic Information Systems.
The diminishing quality of drinking water in Bloomington, Illinois is one of the water challenges many Midwest communities that receive their water from streams draining agricultural watersheds face. Lake Bloomington historically exceeds EPA's drinking water standard of 10 ppm for nitrates and is listed as impaired due to excessive nitrate and phosphorus loadings (IEPA, 2006). Similar to many drinking water reservoirs throughout the Midwest, tile drainage is a major cause of nitrate loading in Lake Bloomington (LBWP, 2008). Research has shown that wetlands are one of the most effective practices removing the tile nitrate load (Crumpton et al., 2008; Kovacic et al., 2006). These studies indicated that the strategically located wetlands establishment are critical and urgently needed.
Approximately 1,000 acres of constructed wetlands are theoretically needed to treat the water with nitrate load flowing from the entire Lake Bloomington watershed through the surface and subsurface. The project proposes relatively smaller size wetlands to be strategically located throughout the watershed close to targeted areas considering effectiveness of the management practices and implementation. The study aims to identify and connect current monitoring activities to geographic locations to comprehend data gathered within the watershed. It is also to explore hydrological characteristics and patterns to locate surface and subsurface drainage locations. Lastly it is to develop a framework to identify suitable locations utilizing the data and characteristics of landscape in the watershed. The study, first, develops its own identification system for basin models utilizing current hydrologic unit codes (HUC) to systemically link between the current scientific data and geographical locations. Next, the study creates a hydrological model for the Lake Bloomington watershed using historical data and digital elevation model (DEM) to find preliminary wetland locations reflecting the site conditions. Once preliminary locations are identified, the study also utilizes other factors affecting creation of the constructed wetland on the targeted location accepting surface and subsurface water.
The study provides guidelines for a feasibility study of small constructed wetland sites. It also offers additional support for the water quality management research and particularly contributes to feasibility studies for water quality improvement practices in other agricultural settings in the Midwest.
Key words: feasibility study, GIS, constructed wetland, water quality improvement, landscape ecology
References:
Crumpton, W., D.A. Kovacic, D.L. Hey, and J.A. Kostel. 2008. Potential of restored and constructed wetlands to reduce nutrient export from agricultural watershed in the corn belt. In: Final Report: Gulf hypoxia and local water quality concerns workshop. September 26-28, 2005, Ames, Iowa. American Society of Agricultural and Biological Engineers.
Illinois Environmental Protection Agency (IEPA). 2006. Lake Bloomington TMDL-Stage 1 Report: Watershed Characterization, Data Analysis, and Methodology Selection. Prepared by Tetra Tech. November 13.
Kovacic, D.A. R.M. Twait, M.P. Wallace, and J.M. Bowling. 2006. Use of created wetlands to improve water quality in the Midwest – Lake Bloomington case study. Ecological Engineering. 28: 258-270.
Lake Bloomington Watershed Plan (LBWP). 2007. City of Bloomington, Illinois
Learning Outcomes:
Understand importance of relationships between scientific data and geographical locations
Learn function of hydrological models generated using GIS in finding potential wetland sites
Learn how various factors are utilized in the site selection process
Authors' bio:
Miran Jung Day
Affiliation: Assistant Professor, Landscape Architecture Department, Cal Poly, San Luis Obispo, CA
Miran J. Day is interested in Geographic Information Systems (GIS); feasibility study; development of strategies for environmental planning and design; and landscape ecology.
Abstract: Council of Educators in Landscape Architecture (CELA) 2015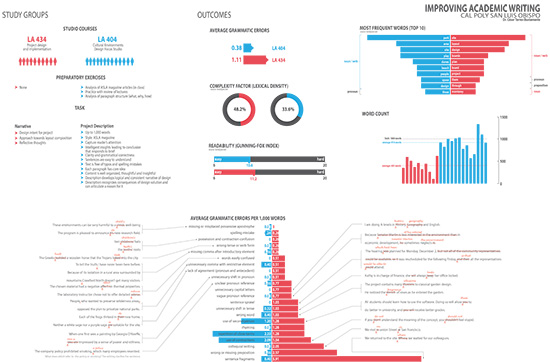 Writing and Designing (Poster)
Writing in landscape architecture's design education is generally confined to courses like design theory and history, and used in presentation of final design ideas along with students' graphics of a designed project. In design studios students are not generally required to submit written work and most presentations, if not all, are oral. Since writing is not systemically incorporated in studios, it is a requirement that displays issues of grammar and correctness, comprehension, expression and organization. While writing is an important means for communicating to real or hypothetical clients, it is not "seen as a tool for learning or engaging in the core activity of landscape architecture, the production of designs". [1] This poster displays in an infographic the results of implementing writing strategies in a design studio in landscape architecture at Cal Poly San Luis Obispo. A design studio in summer 2013 had a 'traditional' approach and was used as the control group. This studio was compared to a studio taught in spring 2014 that implemented preparatory writing exercises including supervision, coaching, critique and rubrics borrowed from the Writing Learning Community Course "Beyond the Term Paper: Integrating The Teaching of Research and the Teaching of Writing" that I attended during fall 2013 and winter 2014. The results show that in the studio with writing exercises the average number of grammatical errors decreased by 70% and the complexity factor (lexical density) of their writing assignments by 15%. The readability of texts (Gunning-Fox index) improved slightly and the sentence structure, in general, incorporated more nouns and verbs than pronouns and prepositions. The implementation of these strategies maximized the spatial opportunities of the studio environment by promoting group discussions as well as individual consultations, and demonstrated that writing can play a valuable role in design process skills.
References:
[1] Martin, Roger et al. 1996. Writing in the Design Disciplines. Minneapolis: University of Minnesota.
--Associate Professor César Torres-Bustamante
Abstract: Council of Educators in Landscape Architecture (CELA) 2015
Beyond Project Description: Writing in Design Studios
In Landscape Architecture design studios, writing has little resemblance to the traditional or term paper from other disciplines like composition, literature and other English courses. While the design studios outcomes emphasize the creativity and design ability of a project, writing is reduced to an unchecked box in the submission requirements list. In other disciplines like economics, instructors agree that students produce writings that are "mediocre, regurgitative and uninspired"  [1] with no evidence of writing and critical thinking. 
This presentation will report on collaboration with a writing instructor to implement three strategies to improve students' writing (and thinking) process: assignment design, clarification of the appropriate audience for the paper and responding to student writing.
Assignment design highlights similarities between the writing process and the design process: both have series of steps that for classification purposes are taught as series of discrete linear steps. Experienced writers use a recursive approach [2], and the design process also moves freely back and forth among its parts. Nevertheless students approach the writing process in a linear sequence presuming that after each step is completed they can move on the next one without ever returning to the previous ones. Additionally, in most of the cases the writing component of a final presentation in a design studio is poorly listed as a description or summary of the design concept. Assignment [re]design asks for a recursive and revisable process that turns "shitty first drafts" into "terrific third drafts" [3], in addition to specific instructions that shift from description into argumentation, from listing of parts into justification of ideas. 
Students also face difficulties when there is no apparent audience for whom they are writing: it is assumed that student's writing informs a reader who is generally less knowledgeable, and in fact students are writing for an instructor that is certainly more knowledgeable, placing the student in a fictitious and problematic situation. Expert writers "think about audience early in the writing process whereas novices don't" [4], so an early definition of audience will assist students in defining the genre and purpose of their writing.
Finally, the feedback from instructors is the tool that students use to improve their thinking and writing, and students need also an opportunity to rewrite. Generally these opportunities are not given or the instructor emphasizes surface errors instead of focusing of argument and analytical issues. 
References:
[1] Cohen A and J Spencer. 1993. Using Writing Across the Curriculum in Economics.
[2] Dougherty, B. 1984. Composing choices for writers. New York: McGraw-Hill
[3] Lamott, Anne 2005. "Shitty First Drafts." Language Awareness: Readings for College Writers. Boston: Bedford/St. Martin's.
[4] Bean, John. Engaging Ideas: A professor's Guide to Integrating Writing, Critical Thinking and Active Learning in the Classroom. San Francisco: Wiley.
--Associate Professor César Torres-Bustamante
Abstract: Council of Educators in Landscape Architecture (CELA) 2015
Examining Long Term Impacts of Short Term Service Learning Engagement
The demand for international service-learning opportunities by 2025 is expected to grow by over 250% to an estimated eight million students. This increase is of significance to landscape architecture programs as it is a pedagogical approach that exhibits the actualization of the NF learning style exhibited by a majority of our students (1). A study completed by Myers et al. in 2010 indicated that service-learning engagement had a positive impact on a design student's overall development. Research has identified a range of expected outcomes associated with students who partake in a service-learning course. These include enhanced classroom engagement, professional skills development, ethical and moral development, and increased self-confidence (2,3). 
Specifically, three types of outcomes have been associated with short-term service learning experience including explicit benefits, implicit insights, and future direction (4). The first is readily assessed through observation during the timeframe of the course experience. Explicit benefits can be assessed through observation during the timeframe of the course experience and referencing to the project goals and objectives established at the beginning of the course. The work product generated by the students provides tangible and immediate feedback. Less concrete evidence is generated during the internship experience itself to discern what, if any, implicit insights and future direction outcomes are imparted to the students. 
This preliminary study will afford insight into both of these outcome categories, by comparing two similar internships. It will examine the issue of timing within the student's academic career, and whether a singular project is more impactful than the undertaking of multiple projects to affect future directions taken by the participants. Two groups of students participating in a co-curricular, short-term, international service learning internship in South Africa will be examined. The first internship was structured with a single project and the group was comprised of students entering their senior year. The second internship comprised multiple projects and was comprised of students entering their junior year.
Assessment measures will be twofold as answers to the internship reflection questions will be analyzed to assess the implicit insight outcomes, and their senior studio project selection will illuminate the future directions outcome. Students independently define their final design studio project. Preliminary findings indicate a strong corollary between participation in the service learning internship and the outcomes associated with implicit insights and future direction. 
References:
Brown, Robert D., Hallett, Mary E., Stoltz, Ronald R.1994. Student Learning Styles in Landscape Architecture Education. Landscape and Urban Planning. Vol. 30 Issue 3: PP 151-157
Bernacki, M.L.,Jaeger, E. 2008. Exploring the Impact of Service Learning on Moral Development and Moral Orientation. Michigan Journal of Community Service Learning, Vol. 14 (2): pp 5-15
Richter-Hauk, R., Arias, J. 2008. Developing Professional Values: Campus and Community Perspectives on a Social Work Partnership. New Directions for Adult and Continuing Education, Summer 2008 (118) pp 31-36
Rowan-Kenyon, H.T., Niehaus, E.K. 2011. One Year later: The influence of short-term study abroad experiences on students. Journal of Student Affairs Research and Practice, Vol. 48 (2), pp 213-228
--Associate Professor David J. Watts
Abstract: Council of Educators in Landscape Architecture (CELA) 2015
Parking Retrofits within Historic City Centers and the Potential Effects on their Walkability:  A Comparison of San Luis Obispo and Davis, CA
Keywords: parking retrofits, historic cities, walkability
Automobile parking in city centers can have a positive or negative impact on walkability, depending on the approaches used. This appears especially true in historic places that have a well-established walkable public realm that persists from a pre-automobile era. This research focuses on two questions: 1) What approaches to parking retrofits have been undertaken within two historic, walkable cities in California?  2) How have these approaches impacted walkability within these cities?
Walkability is generally associated with streets that have a human scale, a sense of enclosure, and buildings that have minimal setbacks from sidewalks, affording an energized environment for pedestrians (Muzzi, 2003). Parking along the street, while causing some vehicular congestion, is seen as having a positive effect on walkability in that cars serve as buffers between people and traffic (Marshall et al., 2008).  Surface parking lots are generally seen as detrimental due to increased curb cuts that break pedestrian flow. However, surface parking can vary; some lots are tucked inconspicuously behind buildings that line the sidewalk, preserving most of the qualities that creates a walkable street. Other surface parking is placed between the building and the sidewalk, disrupting these walkable qualities. Parking garages are seen as another possible positive solution in city center parking retrofits, depending on the approach. If the first floor of a multi-floor parking structure contains retail and commercial spaces abutting the sidewalk, a walkable environment is preserved. Parking garages with parking on the first floor can create unattractive and unusable zones for walkers (Shoup, 2011, Muzzi, 2003).
All of these parking approaches are present to some degree in the cities of San Luis Obispo and Davis, two small college towns in California known for their compact, walkable downtowns. Ten blocks from the central core of each city were evaluated based on types and quantity of parking available. Comparisons assessing the degree of walkable qualities present were made using a scoring instrument that measures urban design qualities related to walkability (Ewing and Handy 2009). Overall, San Luis Obispo's approaches of placing surface parking behind buildings that line the street and using a parking garage that incorporates street level commercial appears to have afforded that city a higher quality of walkability than Davis. Discussion of specific variable results between the two sites will be presented.
References:
Ewing, R. & Handy, S. (2009). Measuring the Unmeasurable: Urban Design Qualities Related to Walkability, Journal of Urban Design, 14(1), 65-84.
Marshall, W., Garrick, N & Hansen, G. (2008). Reassessing On-Street Parking. Transportation Research Record: Journal of the Transportation Research Board, 2046, 45-52.
Muzzi, D. (2003). Road to Ruin: An Introduction to Sprawl and How to Cure It. Praeger: Westport, CT.
Shoup, D. The High Cost of Free Parking. APA Planners Press: Chicago, IL.
--Assoc. Professor Beverly J. Bass and Margaret Livingston, School of Landscape Architecture and Planning, University of Arizona
Abstract: Council of Educators in Landscape Architecture (CELA) 2014
Site Visits in the Digital Era...Are They a Necessity?
Keywords: site inventory, site visits, digital technology
A close personal connection between the designer and the land has always been fostered in Landscape Architecture. Etymologically, the Old German landschaft refers to "[a] setting comprising dwelling, pastures, meadows and fields" (1). Walking the lay of the land, manipulating the soil within the hand, appreciating discernable breezes and inhaling the various aromas drifting along. These tangible site characteristics have been a cornerstone to the foundation of information gathering techniques utilized in our design processes. The forebears of the profession would not have thought it possible to discern the meaning of a site without first having walked and experienced it physically. Today, the ASLA website identifies a site visit as part of the design process, but other websites indicate that new technology is making it possible for landscape architects to complete their work on line, to do remote design, and never physically visit the site (2) (3). Historically the reliance on non-tangible site visit generated data can be seen at the beginning of the twentieth century. The introduction of the "overlay process" methodology for site inventory and analysis occurs in 1912 with Warren Manning's work for Billerica, MA (4). This process was brought to the forefront again with Ian McHarg's work in the late 1960's. Technology today affords students a host of on line opportunities to see and experience a site without physical engagement. Landscape visualization through Goggle Earth, Goggle maps street views, and GIS provide reliable data communicating many of the site attributes. Is the importance of physical site visits diminishing as part of the natural evolution of the design process in a digital era? A pilot study was undertaken after a summer design studio to explore the extent to which students relied on a physical visit to the site or on-line information about the site to influence their design process. Students completed a survey at the end of the studio. Initial findings indicate students relied on data retrieved from on-line sources twice as much as the data collected during the site visit during their design process. The results imply the significance of site visits to be diminishing in importance as other reliable resources become available. Although further study on this topic is required to posit the findings and provide relevance to the pedagogy of the design process, this paper will speculate on the effect of new technologies for off-site visualization tools in conventional design operations like site visits.
--Associate Professors César Torres Bustamante and David Watts
Abstract: Council of Educators in Landscape Architecture (CELA) 2014
Service Learning Partnerships with Private Practice
Keywords: partnerships, private practice, service learning internships
Service learning as a tool for landscape architecture education is prescriptive in its ability to develop moral as well as professional values (1)(2). Development of these values in the academic realm is important as we prepare future practitioners to enter into the professional world. Upon graduation they will be expected to adhere and advance the tenets of the American Society of Landscape Architects (ASLA) that outline personal and environmental values. Traditional delivery of service learning has been through the university as an academic endeavor that is embedded into a specific course, but alternative models exit that provide an opportunity to engage with private practice in its delivery to enhance overall outcomes and value development. A service learning internship organized and sponsored by a firm in partnership with the university can have positive implications for all the shareholders. The opportunities and constraints of this model are examined in a case study that encompasses three separate service-learning internships that have worked at AIDS orphanages in South Africa to design and construct food gardens and playgrounds.
Discernable benefits are identified for the students, university, sponsoring private firm, and the community for which the work is being done. Each of the internships provided students a chance to experience how the administration of the sponsoring firm works as it undertake the delivery of a project. They are able to see the significance of communication and conflict resolution skills as they influence the success and momentum of a project's completion. It provides a new set of professional role models that can influence their moral and professional development. The sponsoring firm benefits in its ability to observe potential future employees in real world experiences, and provides an opportunity to enhance their own community philanthropy. Their professional development is renewed with an opportunity to prioritize the tenets of ASLA in the work being completed. The university benefits from the student's involvement as it showcases their community outreach and engagement with global issues. The children of the AIDS orphanage benefit from new resources that have been built to enhance and improve their daily lives.
Additional benefits include a streamlining of service learning delivery to the students, and the ability to make difficult sites and marginalized clients more accessible. The partnership between universities and private practice for delivery of service learning should be strengthened with increased outreach to private firms for engagement and involvement.
--Associate Professor David Watts
Abstract: Council of Educators in Landscape Architecture (CELA) 2014

A Landscape in Transition: The Reinvention of the Presidio in San Francisco
Keywords: Presidio, San Francisco, transition
The iconic Presidio in San Francisco presents a complex web of land uses, cultural infusions, and environmental conditions. Because of its strategic location, the 1491 acre parcel has provided shelter, ocean access, and defense to a sequence of inhabitants.
Archeological evidence indicates that indigenous groups occupied the peninsula 10,000 years ago. European military and geo-political occupation began in the 1770's, with Spain establishing a small military outpost at this location. This was followed by the Mexican army in the 1820's. Subsequently, the Mexicans were replaced by the U.S. Army, which claimed the area as a spoil of the Mexican-American War. Each group put their unique stamp on the peninsula; militarily, architecturally, environmentally.
As its defensive significance waned in the late 1970's, the U.S. Army planned for a public takeover, starting with roadway improvements and increased public access. Today, the Presidio is a component of the Golden Gate National Recreation Area. It is managed through stewardship agreements between the National Park Service (NPS), the Presidio Trust, and the Golden Gate National Parks Conservancy. The landscape can be considered cultural not natural, as military occupations systematically replaced a grassland-dune environment with thousands of evenly spaced non-native trees. This provided windbreaks for hundreds of military buildings, and ceremonial parade grounds. Existing riparian corridors were also altered, and in some cased eliminated. The result, a highly synthetic landscape, presents challenges for existing stewards. While programs of native ecosystem reintroduction and riparian restoration have been initiated, the managed forest condition remains popular to the public.
This paper will discuss the challenges with managing a major public facility that is artificial in quality, yet culturally significant to the community. And, because the Presidio is a unique NPS unit in that it is financially self-supporting, the paper will discuss the delicate balance between economic concerns and ecologic desires. Examples of student work, the designing of a cultural institute on a small site within the Presidio, will also be presented.
--Professor Gary Clay
Abstract: Council of Educators in Landscape Architecture (CELA) 2014

How to Sketch (more)
Keywords: sketching design, learning to sketch
Learning to sketch is learning to see in a new way. It is not only an ability that records visual data but it also involves the translation of existing visual information or an idea to a two-dimensional surface. Sketching is a creative and inventive practice that allows one to see places and subjects "more deeply, more completely, more wholly." The advantages of sketching over photographing are evident in site analysis, interpretation and even the design process: "sketches teaches you to see, not just to look." It is precisely the careful observation of a scene and its translation onto paper that requires a serious understanding of the subject and an assessment of relationships.
Unfortunately the practice of sketching, or carrying a sketchbook has become obsolete by the popularity of smartphones. These small and portable devices allow the quick and effortless recording of information during site visits, explorations, documentations and even the digitalization of documents. While designers, instructors, faculty and teachers try to encourage students to sketch, students take notes, write down measurements, scan documents and document site visits in photographs and videos using their mobile phones.
If sketching is a creative and informative activity that allows a designer to record an idea quickly, to visualize a design or to solve problems, how can we encourage students to sketch more? How can students be asked to practice sketching everyday to improve their skills?
"Obsessive Consumption" is a book by Kate Bingaman Burt in which she records all her purchases for two years, and was used as the basis for a similar documentation that asked students to draw everything they purchase during the duration of the course (10 weeks). The paper will present the findings from implementing "Obsessive Consumption" as a means to improve drawing and abstracting abilities. Additionally, it will also share students thoughts in regards to consumerism and spending habits, and their reflections on their purchases and budgeting, from items that they regretted buying to the shocking price of food to the cost of studying Landscape Architecture.
--Associate Professor César Torres Bustamante
Abstract: Council of Educators in Landscape Architecture (CELA) 2014

Retrofitting Historic City Centers and the Potential Effects on Their Walkability: A Comparison of San Lyis Obispo, CA and Bath, England
Keywords: historic city center, street
Aging city centers are often retrofitted to accommodate more up-to-date requirements for associated land uses, including restaurants, shops, and housing. While these "facelifts" may be necessary for supporting current building codes and needs, they can impact other desirable noted qualities of these areas such as walkability. This research focuses on two questions: 1) Does retrofitting historic city centers appear to decrease or increase walkability? 2) What walkability qualities appear to be the most and least impacted by the changes associated with retrofitting?
Two cities noted for their walkable city centers with retrofitted structures were compared using a scoring instrument that measures urban design qualities related to walkability (Ewing and Handy 2009). San Luis Obispo, CA, founded in 1772, is a city of approximately 45,000 located in the central coast region of California (United States Census Bureau, 2010). The city of Bath, England, which really became more established as a noted town in the 1800's, is located on the River Avon and has a population of approximately 80,000 (Bath and North East Somerset Council, 2001). Both cities are considered tourist destinations because of the effort they have made in preserving characteristics from their historic origins. Three street segments from each city were assessed and scored for design qualities that contribute to walkability. Comparisons were made between the extent of retrofit for each street and their walkability rankings. Each segment represented a typical street typology (main street, a secondary street and a tertiary street) for each location.
Overall, results indicated Bath city center street segments scored higher than San Luis Obispo streets, suggesting that a lower level of intervention and retrofitting within these historic districts may provide a more walkable environment. Specifically, Bath, when compared to San Luis Obispo, shows a greater retention of historic buildings, and changes to these buildings occur primarily at the ground floor level to accommodate current uses including shops, restaurants and other commercial ventures. San Luis Obispo has maintained some of its historic buildings with similar ground floor retrofits, however, there has been a higher degree of wholesale building replacement of historic buildings with those that represent post World War II construction and style. Discussion of specific variable results between the two sites, and the possible application to other city center assessments will be presented.
--Associate Professor Beverly J. Bass
--Margaret Livingston, University of Arizona
Abstract: California Higher Education Sustainability Conference 2013
Sustainable Campus Initiatives as a Product of Interdisciplinary Teaching
Housed within the College of Architecture and Environmental Design (CAED), the Sustainable Environments Minor inspires and encourages students to understand, conceive and implement sustainable projects, both on the Cal Poly campus and in San Luis Obispo. This paper will focus on one class, EDES 408, Implementing Sustainable Principles, which is taught by an interdisciplinary team of faculty from the CAED. While most students in the minor come from one of the five departments within the CAED (Architecture, Landscape Architecture, City and Regional Planning, Architectural Engineering and Construction Management), students from other colleges have participated, including engineering, business and environmental management. This paper will focus on actual implemented sustainability outcomes that have occurred on the Cal Poly campus and in the local community as a result of this class. Examples of implemented projects include a plastic bag ban, a bio-diesel program and the formation of a campus bicycling coalition.

--Associate Professor Beverly Bass
Abstract: Making Cities Liveable Conference 2013
Sustainable Community Design Strategies in the USA
This paper adds to the body of work that examines case studies and best practices that successfully implement sustainable development strategies at the neighborhood or community scale. It seeks to examine new approaches to sustainable community development that are integrative in nature and exhibit a wide range of sustainable urban design strategies including: energy savings, environmental and water conservation, greenhouse gas emission reductions, recycling, waste management, economy and cultural responsiveness.

The paper provides a geographic cross­section of exemplary sustainably designed communities in the three regions of the U.S.: the West, the Midwest, and the South. Thus, it will discuss innovative strides being made to achieve a more sustainable urban form in: Civano, Arizona (West region), Prairie Crossing, Illinois (Midwest Region) and Glenwood Park, Georgia (South region). Some of these "success stories" are documented and promoted through a vehicle of a United Nations conference, Habitat II, by way of the Best Practices and Local Leadership Network.

The methodological framework for the study employs primarily a case study method as a research strategy in order to describe the emerging trends and approaches of sustainable community design and management practices at the community scale and the neighborhood scale.

The paper will characterize the major design and planning elements of the project. It will identify the range of goals established for the project by the different stakeholders and project partners, and examine the processes by which they moved towards these goals. It will also elaborate on the quality of the outcomes in achieving a range of sustainable urban development strategies. Finally, the paper will discuss the degree of success across a range of variables and discuss the progress made in regards to the transferability of the experience.

--Professor Margarita Hill
Abstract: Council of Educators in Landscape Architecture (CELA) 2013
Lessons from Five Service-Learning Projects
Keywords: service learning, campus planning, open space, housing, winery
This paper examines five service-learning projects that the author undertook for his design studios over the last five years. The focus of this investigation is to identify the patterns in acquiring, researching and designing the projects, and then to evaluate the learning experience of the students.
These projects include a destination resort for a major winery, a housing community, and the central iconic spaces of three major university campuses in the USA. The paper explains how the projects were organized, how the stakeholders participated, and how the reviews were conducted at various stages of the design process. It also shares the insight the author gained from the constraints and opportunities in working with real clients.
The paper discusses the level of student motivation, engagement and seriousness in collecting, researching, generating design goals and preparing the programs, exploring design options and converting them into coherent design solutions, and then presenting to the clients. It also includes the assessment of students' satisfaction and confidence as well as the clients' benefit in receiving a wide range of design solutions that they could not get by hiring professional offices.
The conclusion contains comments on the pros and cons of undertaking service-learning projects and what steps should be taken to ensure that the learning objectives of the courses are enhanced rather than compromised. The author also shares his insight as to what kind of courses and design studios are most appropriate given the variety of projects and clients, and how the courses or design studios should be adjusted to get the most out of them with regard to their learning objectives.
--Professor Omar Faruque
Abstract: Council of Educators in Landscape Architecture (CELA) 2013
Representing Time and Space: DIY Investigations
Keywords: spatiality, temporality, video, animation, space, 3D, anaglyphs
'Spatiality' and 'temporality' are some of the phenomenological characteristics of landscape that present the greatest difficulty for landscape architectural drawing [Corner, James. Representation and Landscape, in Theory in Landscape Architecture: A Reader, 2002.]. The enormity of the landscape cannot be represented without reduction or subtraction: its vast immensity imposes restrictions for its depiction in a Cartesian geometry. The experience of duration and unfolding of events also resists illustration by subdividing temporality into infinite sequences: a static snapshot is nothing more than a frozen moment in time, deprived from a flow of befores and afters.
Today's fascination with visual and moving images claims a three-dimensional depiction and experience of space and time by bringing them as close as possible to everyday perceptions. Visualizing a place should convey an impression similar to photography or cinema, and realistic simulations of this kind not only require appropriate technical facilities but also trained graphic design specialists, resulting in a considerable investment of time, money and effort [Mertens, Elke. Visualizing Landscape Architecture. P. 67.].
This paper presents the findings of implementing simple and inexpensive methods for recreating lifelike experiences of three-dimensional space and lapsed time in a technology class. In the first case, computer perspectives were created by using the conventional depth simulation with convergence and atmospheric perspective [Cantrel, Bradley and Wes Michaels Digital Drawing for Landscape Architecture, 2010.], and the experience of three-dimensional space was achieved through two offset stereoscopic images seen through anaglyph spectacles. Students learned the anaglyph principle by replicating depth in site analysis photographs, and later simulated it in their own constructed perspectives. Images were edited in Adobe Photoshop to produce two differently filtered colored images that were perceived as a three-dimensional scene when seen through paper anaglyph filters (red and cyan glasses).
The use of video in landscape offers a new form of thinking that integrates the traveling continuum of space in time, instead of immutable frames. Students were able to create videos by panning frame-by-frame animations, make more evident processes that would normally appear subtle, and transforming imperceptible changes into a smooth impression of motion. This technique is generally used to document celestial motion, plants growing or the evolution of a construction project, and requires very precise motorized camera dollies. The paper presents student videos made by attaching cameras and iPhones to egg timers, resulting in investigations that not only offered a more complete understanding of the multiplicity of phenomena, but that helped students change preconceptions about their sites.
Associate Professor César Torres Bustamante
Abstract: Council of Educators in Landscape Architecture (CELA) 2013
Enhance Health of Pre-School Children through Prolonged Engagement on Playgrounds
Obesity has become a major issue concerning children's health today, but another issue has arisen. Over 70% of children in the United States have insufficient levels of vitamin D. This deficiency can lead to rickets, osteoporosis, cardiovascular disease, and a host of other chronic ailments (Kumar et al, 2009, Reis et al, 2009). To maintain a healthy level of vitamin D requires 10-15 consecutive minutes of exposure to the sun twice a week (Brender, Burke, Glass, 2005). The barriers to children not being outside or having a limited range of play space have shifted over time from physical attributes to social ones. Reasons that children are not spending time outdoors include an increase in supervised activities, technology, and parental fear (Clements, 2004, Pyle, 2002).
Research was undertaken at the Preschool Laboratory at Cal Poly in San Luis Obispo to discern if an enriched play environment would engage children for longer periods of time. Research indicates that when preschoolers play, they have brief spurts of activity punctuated by rest periods (Bailey et.al, 1995). Does the design of the playground influence the duration of each of these and does it influence the overall duration of their engagement of play outside? This longitudinal study examines the play patterns of children when nature-based play opportunities supersede traditional playground equipment. The existing pre-school playground is a rectangular space bisected into two relatively equal spaces by a concrete sidewalk, and is surrounded by a masonry block wall. One half is a flat open lawn with a climbing structure and two large magnolia trees, and the other is a concrete slab with minimal traditional playground equipment, and a perimeter walkway defined by five foot wide planters. Children were observed in play for the fall quarter in this space with two video cameras positioned to record the largest area possible. Following this, a donor afforded the opportunity to redesign and construct a new nature based playground experience. I created a new design, which was constructed the following year and children were observed again during the fall quarter utilizing the same protocol measures. Initial analysis of the data from the original playground shows a limited number of children engaged in outdoor play. It also confirms results from the Bailey study, and additionally sheds light on play preferences exhibited by the children.
References:
Bailey RC, et al. 1995. The level and tempo of children's physical activities: an observational study. Med Sci Sports Exercise. (27) pp1033-1041
Brender E, Burke A, Glass RM, 2005. Journal of the American Medical Association. 294(18):2386
Clements R, 2004. An investigation of the state of outdoor play. Contemporary Issues in Early Childhood. Vol 5(1):68-80.
Kumar, J. et al. 2009. Pediatrics. 123(3), e371-e379
Pyle R, 2002. Eden in a Vacant Lot: Special Place, Species and Kids in Community Life. Children and Nature: Psychological, Sociocultural and Evolutionary Investigations. Kahn, PH, Kellert SR, (eds). MIT Press. Cambridge
Reis, JP. Et al. 2009. Pediatrics. 124(3), e362-e370
--Associate Professor David J. Watts
Abstract: Council of Educators in Landscape Architecture (CELA) 2013
The Price of Comfort: A Cost-Benefit Analysis and Case Study of How Landscape and Architectural Design Can Reduce Human Dependence on Climate Control
Authors: Christine Edstrom O'Hara and Kristopher Holz
In the development of modern sustainable construction, there has been a focus on technological solutions. One of the most effective ways to diminish one's carbon footprint is through reducing residential energy consumption. A simple component of residential energy reduction neglected in the literature is to better acclimate people to their local environments.
Since the advent of engineered climate control in the mid-20th Century, humans have "forgotten" how to live with their local climate conditions. This study examines from both quantitative and qualitative perspectives how acclimation via landscape and architecture design interventions can reduce residential energy use. Examining a variety of climates in California, it conducts a cost-benefit analysis of reducing the square footage of enclosed residential space to quantify the savings in construction costs, energy infrastructure, and reduced energy costs. Those monies could be then spent on ecologically appropriate outdoor rooms that mimic the functional and spatial requirements of the home, requiring little to no extra energy costs. Case studies show a variety of options for the design of the outdoor spaces including a) multiple spaces around the building for movement with the sun and wind; b) moveable controls within a single space such as umbrellas, retractable overhead shade structures, and opening louvered fences for wind; and c) additive devices like fire pits to warm and water features to cool-—all of which would also have aesthetic design qualities.
The value of the study highlights not only energy reduction through moving people to comfortable outdoor "rooms," but considers the possibility that outdoor spaces that match the spatial and functional needs of indoor rooms could be accounted for in affordable housing requirements. Additionally, this way of thinking about design improves quality of life for the homeowner as they would spend more time outside. It weaves together a story of successful design solutions in all climates for true sustainable design.
References:
Brown, R.D. and Gillespie, T.J., 1995. Microclimatic Landscape Design- Creating Thermal Comfort and Energy Efficiency. Wiley and Sons, New York.
Eliasson, I., 2000. The use of climate knowledge in urban planning, Landscape and Urban Planning 48: 31-44.
Katzschner, L. 2006. Behaviour of People in Open Spaces in Dependence of Thermal Comfort Conditions. PLEA 2006 - The 23rd Conference on Passive and Low Energy Architecture. Geneva, Switzerland.
Lee, B. (August, 2010). Quantifying Greenhouse Gas Mitigation Measures. In CAPCOA. Retrieved September 11, 2012, from http://www.capcoa.org/wp-content/uploads/2010/11/CAPCOA-Quantification-Report-9-14-Final.pdf.
Lenzholzer, S. 2010. Research and Design for Climate Adaptation in Landscape Architecture Education. 2010 CELA Conference, Maastrict, Netherlands.
Moffat, A. and Schiler, M., 1981. Landscape Design that Saves Energy. William Morrow and Company, New York.
Mouzon, S. 2010. The Original Green: Unlocking the Mystery of True Sustainability. The Guild Foundation Press, Miami.
Robinette, G.O. and McClennon, C., 1983. Landscape Planning for Energy Conservation, Van Nostrand Reinhold, New York.
--Associate Professor Christine Edstrom O'Hara
Abstract: Council of Educators in Landscape Architecture (CELA) 2012
Medieval Town Making and Sustainability: A Return to the Center
For decades, planners and designers have looked to traditional town-making as a model for sustainable development in planning new or retrofitting existing communities. Attributes of traditional towns developed before the advent of automotive travel include compact development, a mixture of land uses, multiple modes of transportation, and street networks that are scaled for humans. These qualities are of particular interest in that they are believed to contribute to more livable communities and promote less of a reliance on single-occupant automobile travel at the exclusion of all other modes (Cervero & Radisch, 1996).
This study aims to expand upon the understanding of traditional town-making practices by examining historic medieval Dutch towns which have been successful at retaining the scale and character of livable communities while limiting intrusions of automobile travel (Pressman, 1987). The Dutch report the lowest level of sedentarism in Europe in part due to travel choices that are more centered on walking and biking. Indeed it is in highly urbanized ares of the Netherlands that walking and bicycling present themselves as a significant method of mobility (Racioppi et al, 2005). What elements in Dutch town making, both historical and current, have contributed to these choices? This paper examines historic Dutch town-making methods along with past and current transportation and land use policy to determine what efforts have most contributed to this condition of higher than normal uses of alternative transportation modes among it's populace. Dutch water towns, settlements that were created during the middle ages upon reclaimed marshes and water bodies, form the focus of this examination in that these towns show a higher level of planning and care at their inception when compared to other medieval towns from the same era (Burke, 1956. Gutkind, 1971). These findings may be useful in the planning of new communities or retrofit of existing communities that promote more sustainable, livable communities.
References:
Burke, F. (1956). The Making of Dutch Towns. London: Cleaver-Hume Press.
Cervero, R. & Radisch, C. (1996). Travel Choices in Pedestrian versus Automobile Oriented Neighborhoods. Transport Policy, 3(3), 127-141.
Gutkind, E. (1971). Urban Development in Western Europe: The Netherlands and Great Britain, Volume VI. New York: The Free Press.
Pressman, N. (1987). The European Experience. In A. V. Moudon, (Ed), Public Streets for Public Use. New York, NY: Van Nostrand Reinhold Company Inc.
Racioppi, F., Dora, C., & Rutter, H. (2005). Urban Settings and opportunities for healthy lifestyles: Rediscovering walking and cycling and understanding their health benefits. Built Environment, 31(4), 302-14.
--Associate Professor Beverly Bass
Abstract: Council of Educators in Landscape Architecture (CELA) 2012
Re-Situating Landscape Architecture for the 21st Century: How Economic Downturns have Provided Opportunities for Landscape Architecture to Find New Direction
A historical analysis of American landscape architecture reveals sporadic high points of creativity rather than a study climb, a common trajectory in the arts. In a critical review of the past 130 years, innovation in the field often followed an economic recession or depression. In this essay, an historic overview provides the framework for comparing past economic conditions and the influence of landscape architecture during that period with current economic conditions, proposing how landscape architecture can take advantage of the recession to re-envision the field in a fresh approach and direction in the 21st century.
Significant economic crises in the United States over the past 130 years include the Panic of 1893; the Great Depression initially in 1920 and continuing through the 1930s; the Carter Administration era of 1973 – 75; the early 1980s recession; and the current economic crisis. Design tends to thrive in economically hard times. During downturns, designers shift from consumer driven design to more pressing needs of infrastructure, housing, city planning, transit and energy (Cannell, 2009). After the Panic of 1893, for example, the City Beautiful Movement flourished and the ASLA was founded. Political backing through WPA programs during the 1930s provided unusually collaborative design and opportunity, followed by the first modern revolution in landscape architecture by visionaries Eckbo, Kiley and Rose. The historical reasons behind the economic crisis are not necessarily drivers of the artistic expression in landscape architecture. Rather the downturn appears to provide a period of contemplation and re-situating that provides auspicious momentum when the economy begins to thrive.
The current recession has opportunities for landscape architecture to evolve once again. With a visionary at the helm and political backing, landscape architecture has the opportunity to immerse itself into solving problems of great complexity for which practitioners are trained, and showcase a new sense of relevance outside the profession.
References:
Cannell, M. (2009, January 3). Design Loves a Depression. New York Times .
Corner, J. (1999). Recovering Landscape. New York: Princeton Architectural Press.
Cutler, P. (1985). The Public Landscape of the New Deal. New Haven: Yale University Press.
Kambic, J. L. (2008/2009). Massive change required: Nine Axioms for the Future of Landscape Architecture. Kerb Journal of Landscape Architecture , 17, 105-109.
Peterson, J. A. (1996). Frederick Law Olmsted, Sr. and Frederick Law Olmsted, Jr.: The Visionary and the Professional. In M. C. Silver, Planning the Twentieth Century American City (pp. 37-54). Baltimore: The Johns Hopkins University Press.
--Associate Professor Christine Edstrom O'Hara
Abstract: Council of Educators in Landscape Architecture (CELA) 2012
Construction Documents: A Crossroads of Misunderstanding
The methodology with which landscape architects communicate their design ideas to clients has embraced new technology at every turn. Virtual tours, three dimensional vignettes, and literal graphic renderings allow clients to step into our designs, and experience the space. The opposite is true of communications to general and landscape contractors as they attempt to interpret and execute the design intent conveyed to the client. There has been little advancement in communication techniques since the days of Humphry Repton riding on horseback and throwing potato pieces to identify where trees were to be planted. Two dimensional drawings, schedules, details, and written specifications remain the primary tools utilized to transform an idea into reality. The shortcomings of this approach to clearly and fully communicate the design are seen in almost every project with the issuance of addendum and change orders. Clients incur additional costs, projects are delayed, and business relationships can become strained.
The proposed study seeks to explore the underlying factors that contribute to the reliance on current construction documents and inhibit exploration of alternative communication techniques through case studies, interviews, and surveys of landscape architects and contractors. The study will look for recurring themes and patterns of miscommunication. It will also seek to identify internal and external influences to the process from both perspectives. Possible external factors include legal, financial, and contractual concerns. Factors inherent to the process itself could include our design culture, document preparation techniques, and budget constraints. It is perceived that technology and software availability could be a shared contributing factor impacting communications. The study will go on to examine alternative forms of communication, primarily the introduction of technology new to the landscape architect/contractor relationship, and the viability of their integration into the process. This would include, but not be limited to project modeling techniques, videos, and realistic graphic renderings.
This study is significant in that it highlights and explores a possible deficiency, or at least an antiquated approach, within our procedural theory base. We have found and employed new ways to communicate our ideas to the client and the public. This has not kept pace with our next most important audience, the people who are responsible for making our ideas a reality. Clearer communication of design intent at the start of the project will elevate a project's sustainability through reduced waste of re-doing work that has already been completed.
--Associate Professor David J. Watts
Abstract: Erasing Boundaries: Service Learning in Architecture, Landscape Architecture and Planning Symposium 2011
Farms to Schools: Healthier Communities through Service Learning
Section One: Background
There is a national conversation going on about the need for healthier communities, for conquering childhood obesity, assuring food justice and planning for food security. How do Landscape Architects contribute their skills and activate their students in this conversation at the local level? One key to aligning education with local community building involves the commitment of faculty to participate outside the academy in local non-profit and public organizations. The Planning Department of San Luis Obispo, CA asked for ideas for the use of a city-owned 25-acre parcel of land that would benefit the community and serve as a reminder of the City's agricultural roots. This provided a unique opportunity for Cal Poly students to partner with local planners, educators and farmers. Through programming, students demonstrated critical thinking by adding a working organic farm, education center and food-processing hub to the site. The organizing structure of this project will provide fresh food for Farm to School Programs and the local Food Bank. A non-profit will manage the facility for the City. Students at Cal Poly State University, San Luis Obispo, CA designed the site and presented it to the community. It is currently on the City Council's agenda for approval in mid 2011.
Section Two: Course Objectives
Activate critical thinking about the issues of regional food systems and the cultural/agricultural vernacular by linking the following three ideas:
Expand professional commitment to socially relevant community issues
Understand the pressures of current land use and the importance of preserving agricultural landscapes
Develop an educational facility for local school groups to learn about the culture and practice of farming
Connect students with local farmers, nutritionists, chefs, schools, non-profits and government officials.
Initiate a relationship between the College of Agriculture Center for Sustainability and the Landscape Architecture Department through service learning projects.
Section Three: Methods/Approach
To formulate new patterns of learning, two faculty members teaching 3rd and 4th year students combined two courses in one studio space. Students in both a Design Implementation Focus Studio and Cultural Environments Focus Studio worked together to stimulate critical and reflexive thinking.
Both studios researched local agricultural history, regional farm architecture and site environmental issues. They also examined precedents of agricultural education centers for K-12 children and requirements for farm workers. The Design Implementation Studio produced a set of Design and Contract Documents for the farm. The Cultural Environments Studio continued to research the agricultural and ranching vernacular. Using the same site as the partner studio, this studio also went on to design a farm-based education center.
Using "Bloom's Cognitive Taxonomy of Learning in the Cognitive Domain," we proceeded in the following way:
Knowledge: students used information from previous courses in Ecology, Cultural Landscapes and Construction Implementation.
Comprehension: students demonstrated an understanding of the issues by engaging guest lecturers and transforming required readings and videos into essays and other forms of creative expression. They predicted the consequences of sustainable land use practices and the preservation of the agricultural vernacular.
Application: through programming, concept development and multiple approaches to site design, students expanded their design vocabulary and their vision for socially relevant community issues.
Analysis: students formulated new organizing structures for the site and received critiques from inside and outside the academy.
Synthesis: each student uniquely communicated his/her design, which reflected both research and analysis. Students also formulated new patterns of site organization and land use.
Evaluation: the faculty and the public evaluated each student project using the following criteria:
Does the project clearly communicate its vision to the public including the program development and expression?
Does the project meet the goals and objectives of city officials and the community?
Does the project address the issues of the social responsibility and the consequences of land-use decisions?
Section Four: Results and Conclusions
Thirty-four students presented Landscape Architecture designs for the community's critical response. City and County officials asked us to continue designing the site for approval. Two students and one faculty member currently work on the project. Plans will go before the City Council in April 2011.
By working with a broad spectrum of community members in a service-based project, students expanded their knowledge of food systems, school lunch programs, farm workers, the planning process and regional culture.
--Astrid Reeves, Lecturer
Abstract: Council of Educators in Landscape Architecture (CELA) 2011
From Rose Gardens to Watersheds: A Survey of Ecological Designs by the Olmsted Brothers in Southern California
Writing from the Biltmore grounds during the last weeks of his own practice, Frederick Law Olmsted shared his vision with his son Frederick Law Olmsted, Jr., advising that the future of their firm would be in developing a new and original landscape style that would contend with the problems of the arid West (Olmsted 1895; Beveridge 1995). While considerable research has been done on Frederick Law Olmsted, Sr., this study adds to a little researched area: that of his sons' firm, the Olmsted Brothers, and their designs in Southern California.
This paper is part of on-going new scholarship looking to the built and un-built designs of the Olmsted Brothers landscape architecture, surveying landscapes at a variety of scales developed by the firm from 1900 - 1930. Their progressive ideas from 100 years ago provide modern models for landscape design that look to ecological process and senses of place as the foundation of design. The firm's design approach and regional expression is revealed through early recommendations for urban layout of Catalina Island, to their un-built design of Balboa Park, to urban and residential design in Los Angeles County (Streatfield 1994, O'Hara 2011). Scholarship focuses on the letters, drawings and photographs from the Frederick Law Olmsted National Historic Site collection in Brookline, Massachusetts and the Library of Congress.
References:
Beveridge, C. (1995). Regionalism in Frederick Law Olmsted's Social Thought and Landscape Design Practice. T. O'Malley and M. Treib (Eds.), Symposium on Regional Garden Design in the United States. Washington, D.C. Dumbarton Oaks. 231.
Olmsted, F.L. (personal communication, August 1, 1895). Washington, D.C.: Frederick Law Olmsted Papers, Library of Congress.
O'Hara, C. (2011). The Panama-California Exposition, San Diego, 1915: The Olmsted Brothers' Ecological Approach to Developing a new Park Typology for the arid West. Journal for the Society of Architectural Historians, 70, (1).
Streatfield, D. (1994). California Gardens: Creating a New Eden. New York: Abbeville Press.
Keywords:
Olmsted Brothers, regionalism, California landscape history, ecological design.
Sites:
Catalina Island
Leimert Park
LA Residential Designs
LA Highway Design
PV Residential Designs
Rancho los Alamitos
Torrance
Palos Verdes
LA River
--Associate Professor Christine Edstrom O'Hara
Abstract: The Hawaii International Conference on Arts and Humanities 2011
Gathering Spaces: Lessons from Traditional Dutch Street Form in the Age of Peak Oil and Global Warming
Theorists believe that, currently, world populations are facing epochal changes heralded by Peak Oil Theory, in which the world supply of oil will peak and begin to decline, causing a dramatic shift in basic human activities in the absence of an alternate source of energy that matches the prolific nature of fossil fuels. Concurrently, worries about global warming serve as a reminder that we must reevaluate the dependence that we have developed on these technologies (Kunstler, 2005).
Even without these major concerns, it has become increasingly clear that sprawling patterns of development that dominated the latter part of the 20th century in the United States have alienated communities and degraded quality of life. Further, it is believed to be unlikely that major new energy sources will be developed to replace the pervasive utility of fossil fuels (Holmgren, 2009). While the dire warnings of the peak oil theorists are increasingly apocalyptic, others believe that we can avoid the wholesale collapse of human systems. To do this, we must learn to live smaller and more compactly, with basic needs required for daily living nearby (Newman et al, 2009). This paper asks: can features of older Dutch cities that promote walkability be transferred to communities in the United States?
There are reasons to examine European cities. Europeans have historically placed a heavy emphasis on compact urban form. Older European cities have also been able to preserve the forms and systems that are seen as exemplary models of sustainability such as alternate methods of transportation, compact form, and a mixture of uses. The Netherlands, in particular, place a high value on such practices (Beatley, 2000).
This study, while still ongoing, aims to research the viability of using traditional Dutch urban street form as a model for development by examining characteristics of streets and street pattern within the historic core of three Dutch cities that were settled prior to the industrial age. To insure consistency, the cities chosen for study are all water towns (cities that were developed on lakes or marshes) that all received their city charters between the years of 1245 and 1272. Historic maps were used to determine the study boundaries. Three types of street form were found to be predominant in the historic core: the canal street, the major road, and the minor road. The physical, cultural, and sociological aspects of these streetscapes as they relate to walkability are collected through measurements, mapping, observations, and photographic surveys. Characteristics of each street are examined, as well as the pattern of street form within the study area. This study is expected to result in recommendations that will be generated from the analysis of Dutch street form that could inform the planning of new and retrofitting of existing communities in the United States.
--Associate Professor Beverly Bass
Abstract: Council of Educators in Landscape Architecture (CELA) 2010
Service Learning in South Africa
All people are deserving of quality spaces that meet their physical needs, and contribute to their spiritual well being. The ability of artistry to feed the soul, and in turn our bodies (Bevlin, 1994) is often overlooked. Assuring a balance between artistic and scientific constructs is never more difficult than when our work is undertaken in third world, underprivileged communities. Frequently, the artistic concerns of a project in these impoverished environments take a secondary role to the physical and social issues of meeting basic sustenance needs of the inhabitants. Limited resources, both manufactured and financial, coupled with geographic and cultural disparities, are factors framing this tension. To be successful in these scenarios landscape architects have to overcome these challenges, and ensure the importance of artistic concerns.
Landscape architecture students enrolled at California Polytechnic State University, San Luis Obispo had the opportunity to participate in service learning internships engaged in work for underprivileged communities in South Africa. Projects were undertaken in rural public schools, and AIDS support organizations and orphanages. Student responsibilities included the design and construction of numerous projects at a variety of sites in rural and urban areas of South Africa. Students participated in community workshops, design charrettes, and provided the labor for construction of their designs. The internship challenged students to think outside the box, find aesthetic solutions, and come to understand their individual process along the way (Bevlin, 1994).
The internships are a case study with results aligning with current service learning theory. This paper provides an examination of how the learning acquired through service learning is different from that acquired in the traditional classroom setting (Rockquemore et al, 2000). It explores the impact of service learning on the development of professional values in the participants. It also examines the contribution of service learning to the formation of student values, which can affect the utilization, and integration of normative theory and research in the design process as they are value based (Lang, 1987).
The legacy of this internship is its ability to build bridges between ideas, people, and our global community. For students, their design process is refined and enriched. For the communities we worked in, they saw the concern of other people, and that cultural barriers can be broken. Finally, the internship makes a lasting difference in the hearts and minds of those involved, and how they view the world.
--Associate Professor David J. Watts
Abstract: Council of Educators in Landscape Architecture (CELA) 2010
Teaching Scenarios of New Normals: Grounding Innovative Landscape Architectural Design in Futures Studies
"To build a future means linking the knowledge of the past and present to choice and action." Bertrand de Jouvenel, 1964
As design instructors, we continually drive our students for work that is new, inventive and, perhaps, ahead of its time. Yet how do we teach students to anticipate the future? We counsel them to research precedent studies, seeking a framework from the work of others, but how do we move their work beyond the contemporary of what they know today?
Futures studies is a systematic and rationally grounded exploration of change. It studies historical and contemporary changes, aggregating and analyzing the sources, patterns and causes of change in an attempt to understand it and influence it (Galtung & Inayatullah 1997, Ventura 1998, Isserman 1985, Staley 2007). Ideally, its methodology requires one to be both transdisciplinary as well as a systems thinker. Unlike interdisciplinary study, transdisciplinary scholars dissolve the boundaries between disciplines, tracking patterns of change across trends, events and issues (Groff and Smoker 2000, Cole 2001, Thompson Klein, Grossenbacher-Mansuy, and R. Häberli 2002).
This paper reports on the organization and results of a course developed to help freshman landscape architecture students build innovation in design and anticipate future scenarios through futures studies' methodology. Topics were examined through the lens of historical and contemporary theory and models including:
art
music, literature and film
fashion and industrial design
architectural design
social justice and urban design
politics and economics
systems design of the environment
science and technology
This transdisciplinary study revealed patterns and connections, with history providing context and empirical data for each topic. Students were taught an envisioning framework and up-dated their ideas in a course wiki and discussion boards for all to edit and append throughout the quarter. To test how this knowledge was physically resolved in practice, students created models reflecting possible future scenarios of landscape architecture in 2025, addressed at any scale. These models required synthesizing the principles of physical and social sciences into grounded, rational innovations, exploring possible futures. The course taught a methodology and envisioning process for developing forward thinkers as designers.
Broader value of this paper highlights a heuristic method not typically used in undergraduate landscape architecture education. The specialty of applying futures studies to landscape architecture in both quantitative and qualitative data and ideas is a potentially underdeveloped area for new method and theory development.
References:
Cole, S. (2001). Dare to Dream: Bringing Futures to Planning. American Planning Association, Journal of the American Planning Association, 67, 372 – 383.
Galtung, J. & Inayatullah, S. (eds.). (1997). Macrohistories and macrohistorians. London: Praeger.
Groff, L. & Smoker, P. (2000). Global options program: Introduction to futures studies. Retrieved September 8, 2009, from http://www.csudh.edu/global_options/IntroFS.html.
Isserman, A. (1985). Dare to plan: An essay on the role of the future in planning practice and education. Town Planning Review, 56, 483 – 491.
Nicolescu B. Manifesto of Transdisciplinarity. Albany: State University of New York Press, 2002.
Staley, D. (2007). History and Future: Using Historical Thinking to Imagine the Future. Lanham, MD: Lexington Books.
Thompson Klein, J. & Grossenbacher-Mansuy, W. & Häberli, R. (2001). Transdisciplinarity : Joint Problem Solving among Science, Technology, and Society: An Effective Way for Managing Complexity. Basel; Boston: Birkhäuser.
Ventura, A. (1998). Futures Studies and Strategic Planning. Papers de Prospectiva, 35 – 40.
Keywords:
Foresight frameworks, futures studies, theory, pedagogical methodology
--Associate Professor Christine Edstrom O'Hara
Abstract: Council of Educators in Landscape Architecture (CELA) 2010
Integrated Learning Courses (ILCs): Underscoring Art and Science through Unique Course Design in an Undergraduate Landscape Architecture Program
Over the past four years, the Landscape Architecture Department at Cal Poly, San Luis Obispo, CA, USA, has implemented a revision to the existing BLA curriculum. Central to this effort is the Integrated Learning Course or ILC, a new course type that fosters on-demand learning, increases competence in the breadth of the profession and allows for undergraduates to investigate areas of interest or specialization in greater depth. The purpose of this paper is to explore the initial findings that have resulted from the implementation of ILCs into the curriculum. The following topics are discussed: how the ILC contributes to the studio environment; how the ILC provides flexibility in the curriculum; how the ILC enhances learning in core values and knowledge bases; ways that the ILC allows instructors to introduce research into undergraduate landscape architecture education; methods of instructional delivery; and how assessment of learning outcomes is carried out.
--Professor Emeritus Walter Bremer, ASLA; Assoc. Professor Joseph Ragsdale, ASLA FAAR; Associate Professors Beverly Bass, Christine Edstrom O'Hara, and David J. Watts
Abstract: Journal for the Society of Architectural Historians
The Panama-California Exposition, San Diego, 1915: the Olmsted Brothers' Ecological Approach to Developing a New Park Typology for the Arid West
During the last weeks of his practice, Frederick Law Olmsted, Sr. wrote that the future of his firm relied on developing an original landscape approach that would grapple with problems in the arid West. This paper adds new scholarship to his sons' firm, the Olmsted Brothers, and how they met those goals in Southern California. Their un-built proposal for the 1915 San Diego Panama-California Exposition, now Balboa Park, provides a paradigm of how the firm conceived landscape layouts in direct response to the site, client and social context of the period, while applying design grounded in regional aesthetics and ecological function. As landscape architects, their proposal revealed "appropriateness" in design to the ecology of Southern California, respecting the natural landscape, while seeking a unique park typology for the region. Analyzing their proposed design, research relies primarily on the Olmsted Brothers' original correspondence and previously unpublished drawings.
--Associate Professor Christine Edstrom O'Hara
Related Content