News & Events
Student Assistant Position Wanted for Caltrans
Firm/Company Name: Caltrans
Job Title: Student Assistant - Landscape Architecture
Location(s): San Luis Obispo
Contact Name: Scott Dowlan
Contact Email:
Contact Phone: (805) 542-4750
Contact FAX:
Salary Range: $12.56 - $19.36
Web Site: 
http://www.dot.ca.gov/hq/LandArch/index_intro_to_la.htm
Job Description:
Caltrans is looking to hire a Student Assistant to work under supervision by
a Senior Landscape Architect. In a learning capacity, the Student Assistant
will assist in preparation of erosion control, planting, irrigation and
drafting of plans. Assist in performing calculations to determine roadside
and material quantities using excel spreadsheets or other computer
applications. Provide checks for previously calculated quantities. Assist in
field reviews and in taking field measurements. Assist in the preparation of
visual impact assessments and digital presentations and exhibits. Assist in
filing, copy work, data entry, archiving, preparing and compiling various
reports, graphs, charts and letters.
Flexible hours. Monday-Friday, from 7:00am to 5:00pm. Student Assistant and
Graduate Assistant employees generally work up to 20 hours per work week
(Sunday – Saturday) during the academic year and up to 40 hours per work
week during breaks; Winter, Spring & Summer.
At a minimum, the ideal candidate should have completed at least two years of
college level study in Landscape Architecture or related major. Candidate
must have sufficient math and basic architectural skills to perform the
assigned duties, and the ability to communicate and write effectively.
California Driver License is required.
Must maintain a minimum cumulative 2.0 GPA.
How to Apply:
Must apply by June 26th
View job posting at:
https://ueijobs.peopleadmin.com/postings/10366
Create an account and fill out an application at:
https://ueijobs.peopleadmin.com/hr/sessions/new
The results of this submission may be viewed at:
https://landscape.calpoly.edu/node/1006/submission/198
Landscape Architect Internship in Atascasdero
June 14, 2018
Landscape Architect Intern –
Atascadero, California
Conceptual Design and Planning Company is an innovative, comprehensive landscape architectural firm comprised of highly creative and technically skilled people who are passionate about what they do. CDPC is known for quality, service and integrity which fosters a strong foundation to retain qualified personnel. We are a close knit group who work hard yet take time to have fun. We are fortunate to work on a wide variety of fun yet challenging projects.
CDPC
has an immediate opening for a full-time Landscape Architect Intern in our Atascadero office.
Primary skills and responsibilities:
This creative and inquisitive candidate will work under the direction of a Project Manager and will have the opportunity to assist on a wide range of project types.
Exposure to and participation in the entire project process, from site analysis and design development to
the preparation of landscape construction documents
will be a primary focus.
Working toward, or having acquired, a degree in Landscape Architecture at an accredited program.

Possess experience working with AutoCAD, SketchUp and Adobe Creative Suite. 

Hand rendering skills a plus.

Must have a strong work ethic and the ability to work as a team player.





This is a full-time, paid internship position for the period of June 2018 through August 2018 with competitive pay based on experience. Submit resume, portfolio/work samples and cover letter to driches@cdpcinc.com. Visa assistance not provided.
No candidate/recruiter calls, personal calls or walk-ins accepted.
The Internship program serves to foster growth and will engage the right candidates in all aspects of the design process, including: schematic design, client development, construction drawings, project coordination, and field experience. 
As an intern you will be immersed in the office culture, including weekly project check-in sessions, studio field trips and various continuing education opportunities.
This is paid internship position and is highly competitive, candidates are responsible for their own accommodations. Position would begin in June, if possible, and last for as long as possible into late summer/fall.
Internship responsibilities include CAD drafting, site analysis, graphic presentation preparation and assisting the project managers whenever needed.
Internship Opportunity for LandFluent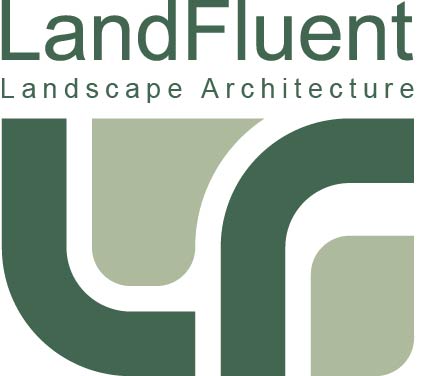 From the Director of Marketing for LandFluent:
My name is Catherine and I am the Director of Marketing for LandFluent, a young Landscape Architecture firm based out of San Clemente. 

We are currently seeking an enthusiastic student or recent graduate from your Landscape Architecture program to join our team in a part-time capacity. 
At this stage, we are looking for project support, which may include project coordination and AutoCAD drafting, as well as site visit support among other tasks.
Spring 2018 Senior Showcase 
June 8, 2018
Come check out and support our seniors as they demonstrate their final projects.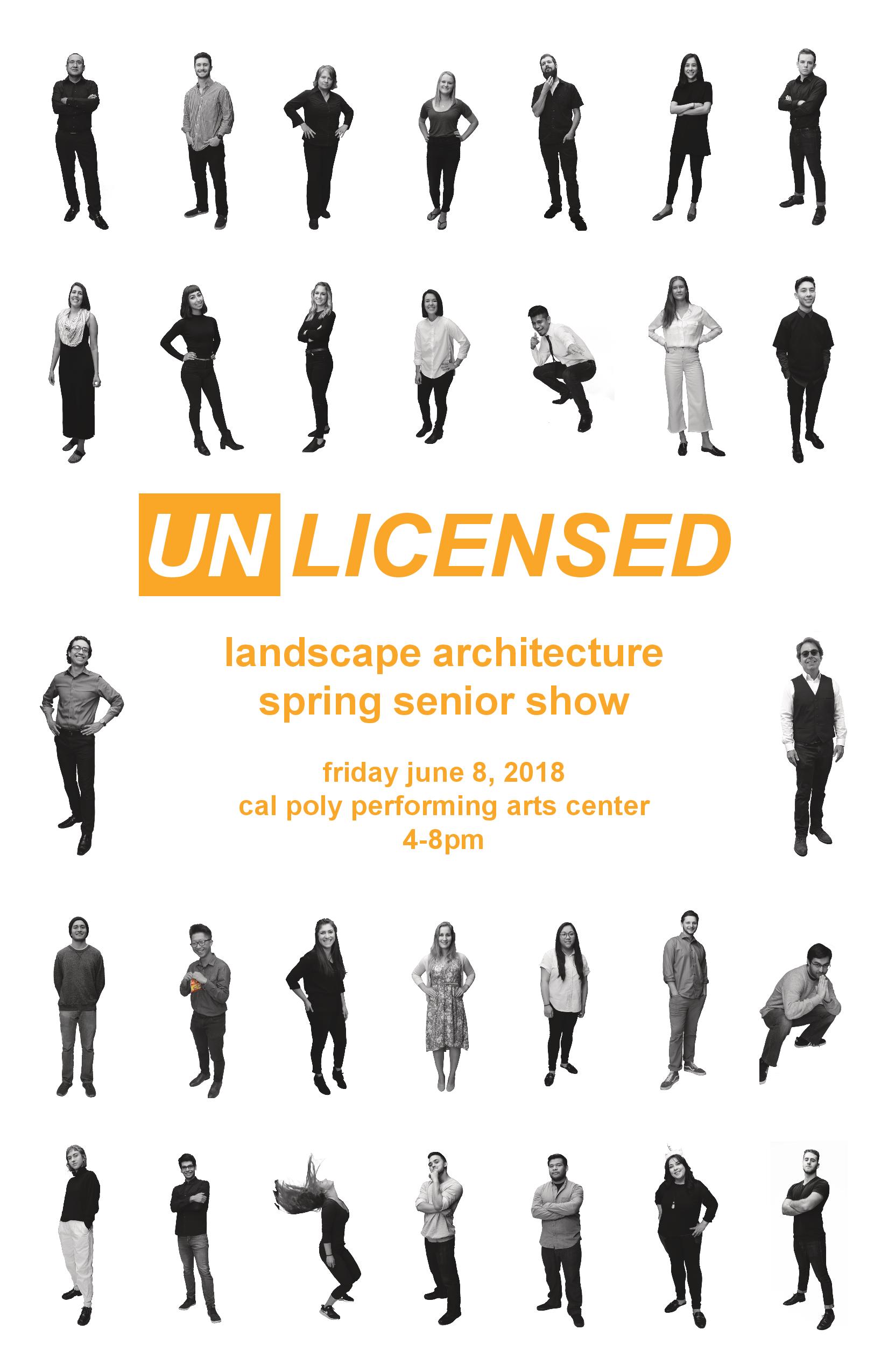 Landscape Architecture Job Opportunity
Firma Design Group Landscape Designer
Class of 1978 Alumni Reunion 
June 1 and June 2, 2018
Calling all graduating members of the Landscape Architecture class of 1978! Your reunion is being scheduled and it will include socials,a wine tasting tour and dinner. This is a great opportunity to catch up on what everyone is doing.
Don't forget to RSVP and join everyone for this great occasion.  
Trip to Disney 
Field Trip to Disneyland SCASLA & Advanced Planting Design (LA 349)
Recently a group of Cal Poly Landscape Architecture students had the opportuniy to get a behind the scenes look at what goes on at Disneyland!
2017-2018 Spring Commencement Schedule
For more information about spring commencement click the link below
https://commencement.calpoly.edu/spring
Summer Internship Opportunity
Sansei Gardens Inc.
Sansei Gardens Inc., a leading Bay Area landscape construction company, is growing. We have over 30 years of experience and strong relationships with the Bay Area's largest home builders and general contractors. As such, we have a wide range of opportunities for potential employees. Our team is rapidly growing and we are looking for interns who would like to grow with us. Our hands on work culture provides the perfect opportunity for employees to put their current abilities to work as well as learn a new skill set.
Send resume, cover letter, and one letter of recommendation to Reed Kelly, VP of Operations, at rkelly@sanseigardens.com by April 28th, 2018!
Posted 4-17-18.
Summer Internship Opportunity
American landscape
American Landscape is offering internship opportunities to two or three students over the summer of 2017.  This is a paid internship opportunity.  The student will experience estimating, project management and submittal generation, purchasing, job site construction reviews, and design of irrigation and landscape for various active projects. 
Students are to send resumes to: Pedmiston@americanlandscape.com and for more information, refer to the flyer posted above.
Posted 4-10-18
Winter 2018 Senior Show - Best in Show Descriptions
Margarita Hill 5th year Studio
Sarah Samynathan:
 Who Reads These Signs Anyways? An exploration into teaching empathy for the homeless through design.  Location: San Francisco, CA
Maren Hill-
 An analysis of representations of topophilia and place attachment within New York City hip hop culture.  Location: New York City, NY
Rowan McGuire
 - Sierra Nevada Amphitheater: Immersing music and arts into the Sierra Nevada landscape. Location: Yuba County
Luke Davies:
 Utilizing ecotourism principles in a resort design that capitalizes on surrounding landscape and utilizes sustainable design principles. Location: Bahia de Los Ángeles, Baja California, Mexico. 
Eli Perrett-
 Reworking an existing ski resort to incorporate four seasons of unique recreation-oriented experiences. Location: Taos, NM
Hearst Lecture Series
spring 2018
Please Join the CAED Department in this quarters Hearst Lecture Series, located in the Business Rotunda (Room 03-213). 
Posted 4-5-18.
Summer Internship Opportunity in France
Nova france sas
Nova France SAS seeks interns in landscape architecture, permaculture, and/or horticulture to work on an exciting new project in the Black Perigord region of the Dordogne, southwest France.
The internship has the potential to lead to future employment, subject to fulfilling French residency requirements. Assistance with housing will be provided. The internship start dates are flexible, as is the length of the internship. A minimum 8 weeks is required. The internship is non-paid, but offers great potential for gaining practical experience and bearing responsibility for project planning and implementation. The management team has decades of experience in sustainable agriculture, market gardening, and tourism development.
Learn more about how to apply to this internship here.
Posted 3-21-18.
Summer Internship Opportunity
CMG Landscape Architecture
For more information on how to apply visit our
Internships
page or visit the company's website
here
. Applications will close on March 30th, 2018.
Posted 3-13-18.
Winter Quarter 2018 Final Review Schedule 
See Dates Below 
Join us for the Eight Final Reviews for Winter Quarter 2018 at Cal Poly San Luis Obispo March 12 thru 16, 2018. Come see what our students have been working on this quarter!
Posted 3-8-18.
Senior Show on March 16, 2018
Come support the seniors' of Margarita Hill's studio class as they showcase their talents at the 5th year show on March 16th, 2018 in the Advanced Technologies Lab (Building 7)!
Posted 3-8-18.
2018 Winter Hearst Lecture Series
Friday March 9, 2018
Cal Poly's College of Architecture and Environmental Design presents the 2018 Hearst Lecture Series. The last lecture of the series will be on Friday March 9th, 2018. The lectures bring progressive thinkers and leaders to campus to engage students and the public in interdisciplinary topics on Fridays at 5:00 p.m. in the Business Building Rotunda (Building 3 Room 213). For more information contact the coordinators at ctorresb@calpoly.edu, bosbor01@calpoly.edu, and ewhite14@calpoly.edu. Read more about the guest lecturers that will be joining us to close out this series below!

Rosalea Monacella is a registered Landscape Architect and has undertaken research on a number of cities around the world, generated urban masterplans for cities in China, USA, South America, Europe and Australia that explore design at the nexus of the urban and natural environments, and has been the recipient of a number of national and international awards and grants related to her practice based research as co-founder of the OUTR Research Lab at RMIT University Melbourne, Australia.
Rosalea's expertise is in the transitioning of the urban environment through a careful indexing and shifting of dynamic resource flows that inform the landscape of contemporary cities. Her research brings together complex urban issues and advanced digital modelling techniques for the generation of sustainable urban futures. Her design approach is one that simultaneously considers forces from the 'ground-up + top down' through a careful and rigorous exploration of complex economic, ecological, and social systems that shape an ever-changing city.

Craig Douglas is a Landscape Architect and scholar whose work focuses on innovative techniques and methodologies that explore the agency of representation in landscape architectural design. The approach supports informed and innovative responses to the challenges found at the nexus of the social, ecological and built environment that embrace the spatial, temporal and material complexity of the landscape.
His work explores design as an activity of making as an agent for understanding and responding to the challenges of urbanisation in a rapidly changing world that contributes to the complexity of the contemporary city.
Douglas is a registered landscape architect and has practiced in Australia, the UK, and the Netherlands, working in the offices of Karres en Brands Landscape Architects, Ushida Findlay Architects, and Lab Studio. He has a PhD in progress, and holds a Master of Landscape Architecture, and Bachelor of Architecture from RMIT University.
Posted 3-1-18.
2018 Summer Internship Opportunity
Calling all students seeking a summer internship in Landscape Architecture! BMLA is now accepting applications for its 2018 Summer Internship Program. Click here to read more on how to apply. The deadline for submitting an application to  baxter@bmla.net is April 20, 2018.
Posted 3-1-18.
Semifinalist in Walt Disney Imagineering's Imaginations Design Competition
Thursday February, 22
A huge congratulations to our student, Michael Lenahan, and his Cal Poly team for achieving a spot as a semifinalist for the 2017 Walt Disney Imagineering's Imaginations Design Competition! Read more here on our Facebook page to get insight behind the design and user/guest experience of their great project at Swan Island, Maine!
Posted: 2-22-18.
Resilient Design Symposium 
Thursday February, 22 & Friday February, 23
Thursday, February 22 and Friday, February 23, 2018
Cal Poly University Berg Gallery, Bldg 05, Room 105
Resilient design and resiliency directed design is becoming part of local, regional and global professional practice. While definitions are still emerging, a working statement by the Resilient Design Institute provides a starting point by stating that "it is the intentional design of buildings, landscapes, communities, and regions in order to respond to natural and manmade disasters and disturbances—as well as long-term changes resulting from climate change…" We seek to improve on this statement through understanding by examining state of the art practice and its outcomes.
Resilient Design: State of the Art & Emerging Issues will bring together leading professionals involved in the design, and making of buildings, landscapes places to present their resiliency work, to think about the future and to debate the most pressing issues. Professionals from leading firms such as AECOM, Perkins+Will, ARUP, SWA, Waggonner & Ball, Bay Area Resilient Design Challenge, and the Cuningham Group have already committed to participate. This is an exciting and confusing time as all of us try to understand the ways in which resiliency operates and also how it serves the professions and more importantly: society.
For More information please click here.
Valentine's Day Plant Sale 
February 12-14
Come and join the current senior class as they fundraise for their senior show. Students will be out on Dexter Lawn and in the UU Plaza selling plants. Please come and enjoy!
Hearst Lecture Series
January 30, 2018
Cal Poly's College of Architecture and Environmental Design presents the 2018 Hearst Lecture Series. The lectures bring progressive thinkers and leaders to campus to engage students and the public in interdisciplinary topics on Fridays at 5:00 p.m. in the Business Building Rotunda (Building 3 Room 213). The lecture series is co-coordinated by faculty members 
Cesar Torres-Bustamente (LA),
Brian Osborn (ARCH), and Emily White (ARCH), and
is funded by a generous endowment from the Hearst Foundation. For more information contact the coordinators at 
ctorresb@calpoly.edu
,
bosbor01@calpoly.edu
, and 
ewhite14@calpoly.edu
.
LADAC's Fall Visit
November 3-4, 2017
Join us on Friday for The Landscape Architecture Department Advisory Council (LADAC) visit filled with studio reviews, group portfolio reviews, and an inspiring presentation by Steve Noll! 
Posted: 11-3-17.
Register Now for the ASLA Annual Meeting
October 20 - 23 2017
Join the largest gathering of landscape architecture professionals and students in the world to gain perspective and establish new connections within the profession.
Click here to register for the ASLA 2017 Annual Meeting and Expo in Los Angeles, California, on October 20-23, 2017. We can't wait to see all of our Alumni and Friends who attend. See you there!
Posted 10-2-17.
Heart Lecture Series
Fall 2017: October 6 - November 3
Cal Poly's College of Architecture and Environmental Design presents the 2017-18 Hearst Lecture Series. The lectures bring progressive thinkers and leaders to campus to engage students and the public in interdisciplinary topics on Fridays at 5:00 p.m. in the Business Building Rotunda (Building 3 Room 213). The lecture series is co-coordinated by faculty members 
Cesar Torres-Bustamente (LA),
Brian Osborn (ARCH), and Emily White (ARCH), and
is funded by a generous endowment from the Hearst Foundation. For more information contact the coordinators at 
ctorresb@calpoly.edu
,
bosbor01@calpoly.edu
, and 
ewhite14@calpoly.edu
.
Cal Poly Landscape Architecture Department rankings in the 2018 DesignIntelligence Survey
The 2018 DesignIntelligence Survey results are out this week. Once again, Cal Poly San Luis Obispo received extraordinarily high rankings for its Bachelor Landscape Architecture program! "We have an extensive and strong five-year curriculum as well as a highly qualified faculty with diverse expertise in all aspects of the profession," says Department Chair Professor Omar Faruque, "and it is no surprise that our program is ranked so high."
According to the survey of deans, chairs and other leaders at schools with landscape architecture programs, Cal Poly San Luis Obispo is the #1 most admired undergraduate landscape architecture program in the nation! Here is what they are saying about our five-year BLA program: "Well-rounded program with comprehensive focus on technical skills and theory."
According to the survey of hiring professionals who identified the undergraduate schools that are best preparing students for a future in the profession, we rank # 4 overall.
Also, in eight subcategories, we are in the top five programs (among the graduate and undergraduate programs combined) of the nation.
Posted: 9-26-2017
Senior Show at the Historic Jack House
The Spring 2017 Senior Show will be at the historic Jack House on Marsh Street downtown. Come down and see these amazing people display their hard work! Check out: Jack House, San Luis Obispo
LADAC's Spring Visit This Week
The Landscape Architecture Department Advisory Council will be visiting June 9 & 10. We look forward to welcoming the council back into the studios and celebrating the Senior Show!
Posted 6-6-17
Post Commencement Reception
June 17, 2017
The post commencement reception will directly follow the CAED graduation ceremony and be held in the Dexter Plaza by the University Art Gallery. 
Spring 2017 Final Reviews
We look forward to the great work our studios have put forth this quarter! Don't miss out on hearing about the projects and designs.
Spring 2017 Hearst Lecture Series
Come out and help us welcome speakers for our Spring 2017 Hearst Lecture series, taking place on Fridays at 5:00 pm in the Business Rotunda (03-213). Don't miss out!
2017 ASLA Honor and Merit Awards - Cal Poly San Luis Obispo
On Saturday, March 25th , 2017, a jury of five professional landscape architects and members of ASLA met with six faculty selected nominees from the Cal Poly San Luis Obispo landscape architecture undergraduate program. The jury consisted of Eric J.H. Berg, ASLA, of Pacific Coast Land Design; Andrew Wilcox, ASLA, Chair of the Landscape Architecture Department at Cal Poly Pomona; Leslee Temple, FASLA, recently retired from NUVIS; Deborah Richie-Bray, ASLA, of Richie-Bray, Inc.; and Gere Smith, FASLA, Professor Emeritus at Cal Poly San Luis Obispo.
Spring Quarter End Reviews June 1, 2 & 3
Wednesday, June 1
2:00 to 4:00 pm, 
Course: LA 404 Astrid Reeves, 
Projects: 'New Moos for Harmony' and 'A Contemplative Garden for the Monastery of the Risen Christ in San L
uis
Obispo' , 
Location Dexter Fireplace Room (Building 34 Room 210)
Thursday, June 2
10:00 to 11:30 am, 
Course: LA 436 Ellen Burke, 
Project: Drawing Landscape, 
Location:
2nd
 year Hallway in Dexter
2:00 to 4:00 pm, Course: LA 438 Miran Day, Project: GIS Application in Various Projects, Location: LA 2nd Year Hallway in Dexter
1:30 to 4:00 pm, Course: LA 242 David Watts, Project: Details-Sense of Place, Location: Dexter Lawn
4:00 to 7:00 pm, Course: LA 349 Christy O'Hara, Project: Planting to Community Support, Location: Berg Gallery (Building 05, Room 105)
Friday, June 3
9:00 to 11:00 am, Course: LA 204 Joe Ragsdale and Astrid Reeves, Project: AIDS Memorial Garden, Location: KTGY Gallery (Building 21, Room 105A)
​1:10 to 4:00 pm, Course: LA 204 Gary Clay, Project: Morro Bay Maritime Museum and Master plan, Location: LA 2nd Year Hallway in Dexter
1:30 to 4:30 pm, Course: LA 403-1&2 Bev Bass and David DuBois, Project: Morro Bay Estuary, Location: KTGY Gallery (Building 21, Room 105A)
5:00 to 8:00 pm, Course: LA 461 David Watts, Senior Project Show, Location: Sage Ecological Landscapes and Nursery, Address:  1188 Los Osos Valley Rd., Los Osos, CA
Related Content