News & Events
2023 Landscape Architecture Senior Show
This year's graduating class of landscape architecture students will have their final showcase presentation on Saturday, March 18th, from 1-5pm at the Center for Wine & Viticulture (building 156, room 110 - adjacent to the H1 parking lot) on campus. This event is free and open to all - please join us in celebrating their achievement.
Click here for a short video about the show.
LA Design Studio Field Trips
In January, Professor Ellen Burke's Interdisciplinary Design Studio (LA 406) made a trip to the bay area to visit multiple parks and open spaces, including the Township Commons in Brooklyn Basin along the Oakland estuary designed by Einwiller Kuehl Landscape Architecture.
Last week, Gretchen Stranzl McCann's LA 404 Cultural Environments Design Studio students attended a field trip to San Francisco on Friday, February 10, 2023. Students performed research while exploring the rich and colorful Castro area to gain a deeper understanding of its culture and placemaking as they work on reimagining its center for their studio focus project. The field trip included an analysis of the transit station and connecting Harvey Milk and Jane Warner Plazas. In addition, the group toured the neighborhood, visited the SF GLBT museum, and experienced riding a San Francisco historic streetcar to Salesforce Park to examine large-scale parity for their design project. Students completed their day by visiting SWA's San Francisco office to gain valuable information about the recent designs for the Memorial at Harvey Milk Plaza from its Landscape Architect and LADAC member, Daniel Cunningham, and his team. 
Associate Professor Ellen Burke published in Dialectic
The online publication "Dialectic" - a peer-mentor and peer-review journal of the School of Architecture at the University of Utah - recently featured an article by Cal Poly Landscape Architecture Associate Professor Ellen Burke, titled "Towards an Expanded History of Environmental Justice in America: Ellen Swallow Richards and Human Ecology." Professor Burke's research delves into events preceding the environmental justice movement of the civil rights era to focus on the work of Ellen Swallow Richards, a pioneering female chemist and leader in the sanitation reform movement during the late 1800s.
The abstract and links for the full article can be found in the Faculty Research section of this site.
Lecturer Kim Chacon Invited to present in Riverside, CA
Kim Chacon, part time Lecturer for Landscape Architecture, has been invited to present two abstracts at the 2023 International Association of Landscape Ecology (IALE) North America Annual Meeting in Riverside, California. First she will present, "Strategic habitat analysis for bees in California:  Validation of foraging associations to improve bee habitat and conservation in novel ecosystems" on March 20th. A second presentation will be on March 22nd, titled, "Application of spatial and temporal habitat analysis to assess California bee habitat patch dynamics and potential for landscape fragmentation in the anthroscape". Kim's research assessed how novel arboretum plantings were utilized by California native bees and if those foraging habits contributed to habitat fragmentation which is cited as a the main reason of native bee declines today. These research findings have been utilized by Kim's Cal Poly students since she has started to create imaginative and scientifically based landscape design for bees. 
Lecturer Daniel Kletzing: Featured Alum
Lecturer Daniel Kletzing (PLA, ASLA, LEED AP) was recently interviewed by his alma mater, the University of Georgia, where he received his Bachelor of Landscape Architecture in 2015. This article features Daniel's career path and interests, including his time teaching at Cal Poly and his research projects. In his recent research, he has been working with with an Indigenous organization, Spirit Farm: Native American Regenerative Farming, on climate change mitigation strategies for Western US tribes.

The complete article can be found here: https://ced.uga.edu/news_and_events/ced-alumni-spotlight-daniel-kletzing/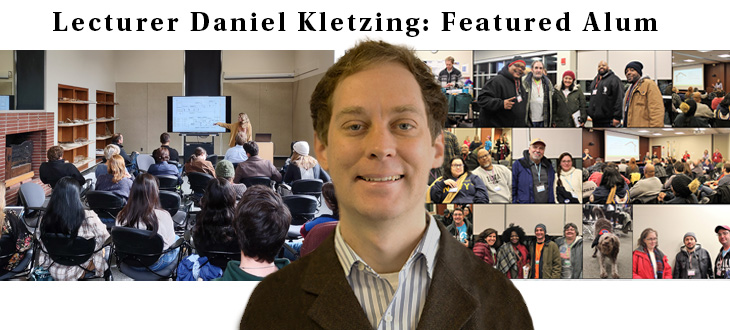 Congratulations to Jessica Baiza!
Jessica is in her fourth year of our Landscape Architecture program, focusing her work on the intersections of LA and environmental justice – such as food access in urban areas, green infrastructure strategies to address climate change, and culturally-responsive design approaches that center on disadvantaged communities – to design resilient and equitable places where people can raise families, heal, grow, and form bonds with each other and nature.
Before finding landscape architecture, Jessica had her heart set on becoming a first-generation degree holder of a Doctor of Medicine to alleviate people's pain but soon realized that much of the pain stemmed from environmental and sociocultural factors.
Jessica's application to The Council of Educators in Landscape Architecture (CELA) Fountain Scholar Program will be considered for their annual scholarship award. This program recognizes black, indigenous, and POC students in landscape architecture who use their exceptional design skills to influence, communicate, lead, and advance design solutions for contemporary issues in a manner aligned with the original goals of Dr. Charles Fountain.
LPA Interdisciplinary Diversity Scholarship Program
The deadline to apply is January 27, 2023 3:00 pm CT.
Go to: https://learnmore.scholarsapply.org/lpa/
Cal Poly SLO at ASLA Conference in San Francisco
Students and faculty from the Landscape Architecture Department had an absolute blast November 11-14 at the 2022 ASLA National Conference in San Francisco. Students had opportunities to volunteer, attend lectures, and network with industry professionals. The department also hosted a successful mixer event: 127 alumni and friends joined us for tasty appetizers and drinks at the ferry building Saturday evening.
In between scheduled activities, several LA students got outdoors and toured the surroundings with Professor David Watts. They explored Ghirardelli Square, the Palace of Fine Arts, a wetlands boardwalk with views of the Golden Gate, and even enjoyed a local playground.
We're happy to see students make the most of these events, and look forward to next year's conference in Minnesota.
Study Abroad in Italy - One Month Update
Landscape architecture students Maya Amyx, Bradley Atnip, and Jackie Tang are studying landscape architecture as part of a program through the University of Washington (with Daniel Winterbottom), in connection with Professor David Grohmann at the University of Perugia. They share classes with students from four different American universities - about a third of whom are masters students. Here are some highlights from their first month in Italy:
They spent three days in Naples and toured Pompeii, followed by three days in Rome enjoying the Botanic Gardens and multiple sketching opportunities. Then they made their way to Perugia - a small hilltop city between Rome and Florence - where they will live until December. 
The students had two weeks to design their project: a pavilion and other amenities within a community garden. After receiving feedback from the community, and more design work, they started the construction phase and are working eight hours per day on site!
As a break from construction, some of the group visited Cinque Terre and hiked between four of the five beautiful seaside villages. As of this update, the students were on their way to Florence for another weekend trip with the class and looking forward to seeing more of Italy!
Fall 2022 Hearst Lecture Series
The Cal Poly Landscape Architecture department is pleased to announce our fall lineup of speakers for the Hearst Lecture series:
Friday, September 30th at 5pm - Chelina Odbert, CEO of Kounkuey Design Initiative
Friday, October 7th at 5pm - Dilip da Cunha, architect and planner
Friday, October 28th at 5pm - Wendy Fok, Creative Director of WE-DESIGNS
Friday, November 4th at 5pm - Estudio Persona (Emiliana Gonzalez & Jessie Young)
All lectures will be hosted in the Business Rotunda - building 03, room 213. These events are free and open to the public. The Hearst Lecture Series is sponsored by a generous donation from the Hearst Foundation. Please join us!

SCASLA's ArtBox Project
In the week leading up to the start of the Fall 2022 quarter, SCASLA members and friends completed the mural on an electrical box here on campus. This project was funded by CP facilities, which invited students to propose a design and paint a utility box.
The team's mural celebrates environmental activism with imagery of demonstrators, wind turbines, California poppies, and the message "Our Planet, Our Future". The students hope this bright and inspiring mural encourages those who pass by it to take a stand on environmental issues and do what they can to help the current environmental crisis.
Check out their ArtBox located between Building 32 (Dexter) and the Kennedy Library on campus!
Landscape Architecture Scholarship Winner
Congratulations to Isabella Carrera on being awarded the LandDesign Equity, Diversity, and Inclusion scholarship for 2022! Isabella is a fifth-year student in Cal Poly's Landscape Architecture program, with triple minors in City & Regional Planning, Ethnic Studies, and Sustainable Environments. Her Filipino heritage plays a huge part in her identity, and she hopes to pursue higher education in urban planning to provide safe, usable green spaces in cities.
The LandDesign Equity, Diversity, and Inclusion Scholarship was established to assist students from underrepresented groups who are pursuing a degree in landscape architecture. In addition to the financial award, each recipient participates in a LandDesign mentoring program for the following academic year.
Spring 2022 LA 350 Advanced Landscape Construction Arboretum Project
We are proud to show off the work of the 2022 Spring Quarter LA 350 Advanced Landscape Construction class, a new design-build elective. Professor Joseph Ragsdale and 17 students worked to enhance the formal garden at Cal Poly's Leaning Pine Arboretum. The design goals were to refocus the attention to the fountain as the focal point, create a strong entrance statement, and overall enhance the beauty of a formal garden design. The class split into four groups– retaining wall, arbor, benches, and mosaic/planting– each group worked together from the beginning to the end of the design-build process.

The new block retaining wall matches the aesthetic of other retaining walls adjacent to this garden and replaced the previous decaying wall. Two wood and concrete benches sit at the outer edge of the garden, facing inward to allow visitors to admire the beauty of the fountain. The mosaic depicts the iconic peaks of San Luis Obispo (the P, Madonna, and Bishop) with wildflowers that are commonly spotted in the area. The updated planting palette vibrantly complements the newly added mosaic and the formal garden aesthetic.
Special thanks to the Leaning Pine Arboretum and Tyler Boyle and alum Michael Vogt of Purlieu Landscapes for your time and talents in making this project happen. Go check this amazing project by our students!
Related Content